In uncertain times, we rely on tradition and the natural rhythms of life to provide meaning and stability. While the current challenges we face are real, we need to remember they are temporary. We are part of a larger whole—a long continuum—which provides perspective and comfort. Celebrating holidays helps us to stay connected to this whole, and helps us navigate difficult times.
Yom Kippur marks the culmination of the 10 Days of Awe. In the Jewish tradition, this is a period of introspection and repentance. It follows the Jewish new year, Rosh Hashanah, and is the time when God decides each person's fate. It's a time when Jews are encouraged to ask forgiveness for sins committed during the past year and make amends. It's a time of fasting followed by a "breaking of the fast" meal.
Catering by Michaels is humbled to be a part of your Yom Kippur observances.
Breaking the Fast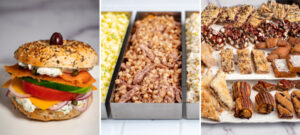 From sundown on the night before Yom Kippur until sundown on the day itself, people will come together for fasting and prayer. No food or drink is consumed for 24 hours, helping to connect to God and reflect on the sins of the year. This period is followed by a "breaking of the fast" in which satisfying, comforting foods fill the table. Meals requiring minimal preparation are perfect to follow a day of fasting.
Catering by Michaels Is Here for You
Our Yom Kippur menu consists of dishes that can be served cold or at room temperature. These include deli displays, salads, bagels, tenderloin displays, smoked fish, and desserts. You can download the Yom Kippur menu right now (pdf) or go to our website to start planning an event around the holiday.
Packages for Yom Kippur and Kol Nidre
Our chef-curated Yom Kippur small group packages include convenient, complete meals which feed two with leftovers or are just perfect for four. These packages come complete with bagels, New York's finest Nova lox, traditional creamy white albacore tuna salad, whipped plain cream cheese, sliced tomato, shaved Bermuda onion, cucumber, and capers.
Planning dinner before Kol Nidre? We offer a selection of our most popular items from our Rosh Hashanah menu which are available to order for dinner on Wednesday, September 15. Delivery will be available in any 2-hour window or you may pick up from our kitchen in Morton Grove. Start your fast with a delicious dinner including our famous brisket or other entrees such as kishke stuffed chicken breast and orange herb salmon. Ask your Event Coordinator for details.
Choose Your Favorites
If you are inclined to tailor your own selection, we offer a wide variety of appetizers, entrees, sides, salads, extras, and desserts to fill any Yom Kippur table.
In addition to our traditional favorites, you'll find some new-this-year offerings include our gourmet international cheese display; baked salami; Nancy's noodle kugel muffins; cauliflower, cheese & potato pancakes; harvest kale & apple salad; and broccoli quinoa tabbouleh salad.
Deadlines & Important Dates
Yom Kippur in 2021 begins Wednesday, September 15th at sundown and we break the fast Thursday, September 16th at
sundown. For dinner before Kol Nidre on Wednesday, September 15th you may order from our Rosh Hashanah menu.
All Yom Kippur orders must be placed by Friday, September 10th at noon. Additions, changes, or deletions to Yom Kippur orders must be made before Saturday, September 11th at 11:00 am. We highly recommend ordering early as we will sell out faster than usual and the order deadline is farther out than usual so we can meet the deadlines that our food suppliers have given to us.
Delivery Information
Deliveries will take place on Thursday, September 16th between 12:00 pm and 6:00 pm. A limited amount of deliveries are available before 12 pm, ask an Event Coordinator for details.
All deliveries will be contactless. drivers will not enter your home. Orders to high-rise buildings will be left with the doorman.
Pickup Information
Orders of any size may be placed for pickup. A handling fee of $5 is added to all pickup orders to cover the costs of operating these sites. All pickups will be curbside and contactless.
All pickups will take place on Thursday, September 16th at the following locations:
10 am-5 pm @ Catering by Michaels (6203 Park Ave., Morton Grove)
1 pm-5 pm @ Highland Park (1201 Park Ave W/Highland Park Country Club)
2 pm-5 pm @ Northbrook (1198 Sanders Rd./Wood Oaks Park)
2 pm-3:30 pm @ Lincoln Park (2430 N Cannon Dr./Peggy Notebaert Nature Museum)
4 pm-5 pm @ Gold Coast (60 W Walton St./Newberry Library)
We hope you have a meaningful holiday, and we look forward to breaking the fast with you!