Even COVID cannot derail the rhythm of life or the traditions which celebrate it. As summer naturally gives way to autumn, we give a thought to endings, beginning, and cycles. This is what Rosh Hashanah is all about.
Rosh Hashanah History
Rosh Hashanah, The Jewish New Year, begins in autumn and marks the anniversary of the creation of Adam and Eve. It serves as the first two days of the period marking our first sin and subsequent repentance. This 10 day period of prayer, repentance, and charity is known as Aseret Yemei Teshuvah. or The Ten Days of Repentance. The Ten Days of Repentance end in celebration with Yom Kippur, the Day of Atonement.
The holiday takes place at the beginning of the Hebrew month of Tishrei. Because the Hebrew calendar measures months based on the lunar cycle, and years in correspondence to the solar cycle, the celebrations are not fixed on the secular calendar, but usually occur between September and October.
This year (2021) Rosh Hashanah starts on Monday, September 6 at sundown and concludes Wednesday, September 8 at sundown.
Rosh Hashanah Traditions And Customs
The holiday reflects both happiness and humility.
After the temple services are over, many people celebrate by opting to wear new or special clothing, and by having a festive meal rich in symbolism and tradition. The meal typically begins with the ceremonial lighting of two candles and features food that represents positive wishes for the new year.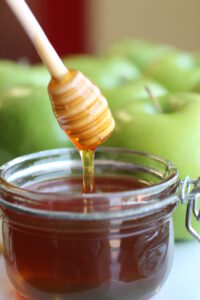 The preparations for the High Holidays (including Rosh Hashanah) begin a full month before during the Hebrew month of Elul. The holiday culminates in Rosh Hashanah Eve Meal. The different traditions and components of the menu include:
Sounding the shofar– to alert listeners of the coming judgment
Kiddush prayer ceremony– before starting the Rosh Hashanah meal, a ceremony of prayer is performed over wine by the head of the Jewish household
New fruit – a new fruit (a seasonal fruit which hasn't been tasted since being in season), usually an apple, is presented on the table on the second night of Rosh Hashanah
Challah – Challah is a Jewish braided bread usually baked in a braided oval shape. For Rosh Hashanah, the challah is baked in a spiralized round shape which symbolizes the circle of life
Symbolic Foods – foods including a sweet apple dipped in honey, brisket, kugel, and pomegranate that symbolize the year that is wished to have
Nothing sour or tart– it is customary instead to focus on sweet foods to complement the desire to have a sweet year
Catering by Michaels Is Here to Help You Celebrate
If you're planning to attend temple all day, you don't want to be concerned about meal preparations for your own Rosh Hashanah spread. So, why not opt to have a delicious holiday spread prepared by Catering by Michaels? We offer convenient, curbside, contactless pickup as well as contactless delivery.
Packages, Large & Small

Our chef-curated Rosh Hashanah menu includes convenient, complete packages for large gatherings (10 or more) as well as small group packages which feed two with leftovers or are just perfect for four. In our packages, you'll find all your favorite items from challah to chicken soup with matzo balls to brisket to kugel.
Choose Your Favorites
If you are inclined to tailor your own selection, we offer a wide variety of appetizers, entrees, sides, and desserts to fill any Rosh Hashanah table.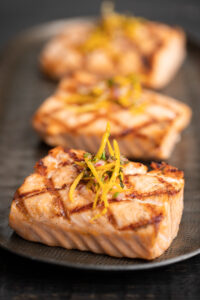 Some new-this-year offerings include our Gourmet International Cheese Display, Matzo Crusted Chicken Fingers, Beef Short Ribs, Chicken Marsala, Parmesan Encrusted Whitefish, Cranberry Pecan Israeli Couscous Salad, and Milk Chocolate Pot de Creme, and more. Of course, you will also find perennial favorites like Mom's Sliced Beef Brisket, Traditional Whole Roasted Chicken, Orange Herb-Grilled Salmon, Brown Butter Honey Glazed Tri-Colored Carrots, Potato Pancakes, Kishke, Coconut Macaroons (Dipped and Undipped), Flourless Chocolate Cake…the list goes on!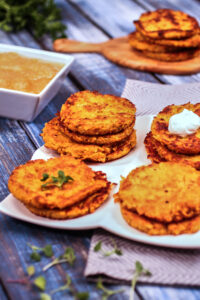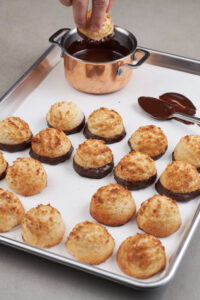 Deadlines & Important Dates
All Rosh Hashanah orders must be placed by Tuesday, August 31st at 5:00 pm. Additions, changes or deletions to Rosh Hashanah orders must be made before Wednesday, September 1st at noon. We highly recommend ordering early as we will sell out faster than usual and the order deadline is farther out than usual so we can meet the deadlines that our food suppliers have given to us.
Delivery Information
Deliveries will take place on Monday, September 6th or Tuesday, September 7th, between 8:00am until 4:00pm. We are currently operating with a reduced delivery staff and have limited delivery slots available. (Delivery is an extra charge.)
Pickup Information
All pickups will be curbside and contactless. To support as many orders as possible, this year we have several pickup options in the city and suburbs! Orders of any size may be placed for pickup. A handling fee of $5 is added to all pickup orders to cover the costs of operating these sites. For a complete listing, please see the Rosh Hashanah menu or call (847) 966.6555 for more information.
L'Shana Tova!