Fathers and daughters. Fathers and sons. Fathers and their non-binary children. They all share a special bond celebrated every day of the year, but especially on Father's Day. In these times of COVID reduction and social renaissance, it's the perfect opportunity to shed our masks, hug our fathers, and gather to show dad why he is special.

Full Hearts and Full Stomachs
We all know the adage stating the way to a man's heart is through his stomach. The Catering by Michaels family is here to say we have the perfect roadmap to that destination! From grillables like traditional hot dogs and hamburgers to mouthwatering choices like beef tenderloin or chicken Vesuvio kabobs, we are here to help you fill your father's stomach—and heart—with some love.
We Make Loving Your Father Easy
Our Delivery Event Coordinators are ready and waiting to help you plan the perfect menu to fill the grill and table. Planning a backyard barbecue? We can help you be the grill master hero and make your party a one-stop-shop. Our grill-yourself-kits are perfect for your June 20th bash. They come with all the essentials for an ideal grill out—meats ready for the flame, buns, and all condiments.
Our full summer menu is the perfect supplement to these grill kits. It includes all the appetizers, sides, desserts, and even cocktails to round out dad's special day.
Morning, Noon, and Night
Speaking of our summer menu, did you know we offer more than you thought? Yes, our grill kits are fantastic. Our appetizers (pulled bbq chicken quesadillas or Serbando's nut mix, anyone?) are tempting. Oh, and our new summer specialty cocktails are sippable and refreshing.
But let's say you wanted to build a true Father's Day. Start with breakfast or a leisurely brunch. We can set you up with a sweets displays, lox & bagels, quiches, or even pancake bread pudding (you read that correctly!) to get the day going.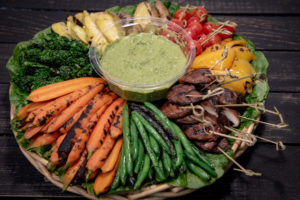 Mid-day festivities continue with our dips and displays. Treat dad to our popular summer grilled & chilled marinated vegetables, our mix-and-match chips & dips, and summer maki roll assortment. Or try our new-this-year charcuterie & cheese display or our indulgent surf & turf display. These are sure to bring the wow factor!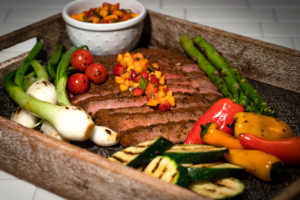 Still hungry for more? We know you are because it's time for dad's special dinner. Besides the grill kits, we have other popular favorites like miniature sandwiches: chipotle chicken, beef sirloin, fried chicken, Piri-Piri chicken, and lobster salad, to name a few. Or pull out all the stops with our dazzling smoked paprika flank steak display or the king of displays, sliced beef tenderloin.
We have bone-in bbq marinated chicken, white cheddar macaroni & cheese, pulled bbq tchapatu pork, chicken piccata, orange herb grilled salmon…the list goes on.
Of course, don't forget the sides! Choose from 11 different salads. Does dad hanker for grilled corn cobettes, Michaels homemade baked beans, or chimichurri roasted fingerling potatoes? We've got you covered.
Finally, we hoped you saved room for dessert because we have some fantastic choices! Key lime pie push-pops, homemade twinkies, raspberry white chocolate bundt cakes, miniature fresh fruit kabobs, and vegan oatmeal cookies are just a few of the sweet treats to round out your father's perfect day.
Planning Made Easy
With so many choices, it's easy to get overwhelmed. But, don't worry, we are here. Call us at (847) 966-6555, and we can help you craft the ideal menu for your ideal father. We can even deliver it right to your door! For inspiration, have a look at our online summer catering menu.
But don't wait too long! The deadline for ordering for Father's Day is Tuesday, June 15, at 5 PM.
Our family wishes your family the happiest of father's days!