Autumn. The word itself elicits images of nesting, comfort, and all the cozy feels. We slow down, both in our lives and in our cooking. It's a time when our thoughts of food transition from the bright freshness of summer to the warm heartiness of harvest. The immediacy of tossed-together salads and quick-grilled proteins transform into deep roasted vegetables and slowly braised meats. It's a time to reflect, appreciate, and harvest all the beautiful feelings which have ripened over the summer.
On our plate, bright new potatoes mature, becoming deeply caramelized sweet potatoes. Herbed chicken breasts mellow into slow-roasted turkey. Everything about Autumn celebrates the patience of waiting for the last falling leaves and the promise of comforting fare.
Our New Autumn Menu
As seasons change, so do our menus. Our new autumn menu features classic favorites such as stuffed mushroom caps, hoisin braised short rib quesadillas, our show-stopping holiday seafood spectacular, butternut squash soup, the grand apple cider glazed spiral sliced ham, mom's sliced brisket (a CBM favorite!), and chicken piccata among so many others.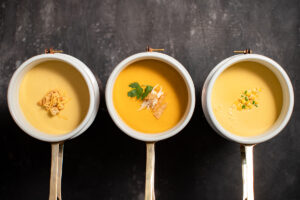 This year, we have added some new offerings, which we are excited about. Start your meal with hot pepperoni pizza dip in a crock, the luxurious baked brie en croute, the stunning gourmet international cheese display. Usher in Autumn with our soul-warming slow-cooked beef roast, the delightful shredded chicken and potato pie, and a classic lemon thyme chicken. We have all manner of appetizers, sides, entrees, and even breakfasts (pancake bread pudding, anyone?).
An Autumnal Mainstay!
If our complete autumn menu isn't enough, we are thrilled to say our gourmet taffy apples have returned! Nothing says "autumn" like our jumbo apples, enrobed in rich caramel and decorated with a wide variety of toppings.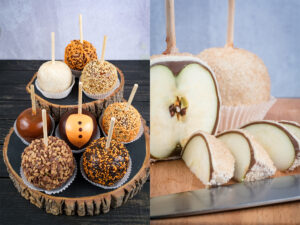 What are you in the mood for? Orange and black sprinkles? Peanuts? Chocolate toffee? Seasonal M&Ms? Our signature white chocolate and cinnamon sugar? We have them all and more! You can order apples individually or in bulk. We can also prepare gift baskets of six or 12 pieces. Have a look at our taffy apple menu, or call us at (847) 966-6555 to learn more.
We are here to Help!
It's no secret we love food. We delight in curating and preparing menus for you that honor the season. Whether you're planning an intimate evening or a family gathering, we are here to help make your meal memorable, delicious, and carefree.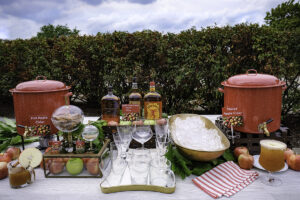 Our dedicated event coordinators are passionate about working with you and your budget to cater to your needs. They will help you select all the items to complete the perfect meal, and can arrange for your bounty to be delivered to your door. Want to pick up your order instead? You can do that at our kitchens in Morton Grove, IL! Just let your event coordinator know your needs and preferences.