When we think of the "Big Games," we think of friends and family gathered around the television, living and dying by their favorite teams. Even if your team isn't playing, the excitement of the Super Bowl or March Madness is contagious. Sure, cheers, drama, and camaraderie are all a part of the experience, but what big sporting event is ever complete without game day food?
Sure, you could take the boring way out and open a few bags of boring chips or microwave some less-than-satisfying "pizza adjacent" mystery rolls. But big games call for big food. And that's where Catering by Michaels comes in!
We have crafted a dedicated menu for all your big game food needs. Win or lose, your Super Bowl or March Madness parties will be world-champion caliber when you order from Catering by Michaels!
Potables
Start things off with our selection of beverages to please everyone. We deliver soft drinks and hot beverages (hot chocolate with mini marshmallows, anyone?) as well as selected beer, wine, and spirits.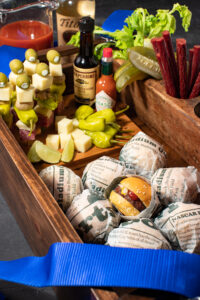 But for that truly event-worthy touch, we present our famous Bloody Mary Bar. Truly, it's an event in itself, featuring everything you need to wow your guests. Start with Tito's vodka and our Bloody Mary mix, then add condiments (celery stalks, dill pickle spears, salami sticks, Tabasco, and celery salt). For maximum wow-factor, add our giant Bloody Mary skewers: every skewer is a celebration on a stick featuring a smoked mozzarella cube, blue cheese stuffed olive, pickled onion, pepperoncini pepper, pickled mushroom, marinated artichoke, and a salami cube. "It's up, it's GOOD!"
Pre-Game Festivities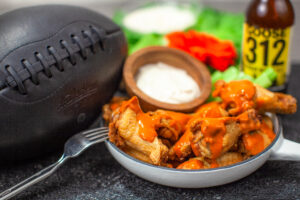 And we are just getting started…with appetizers. We will deliver all the traditional favorites such as wings (bone-in or boneless), pigs in a blanket, mozzarella sticks, and 7-layer dip to name a few. But we also offer unique apps to get everyone cheering: cheesy Brussels sprouts with kimchi dip, Italian hoagie dip, hot pepperoni pizza dip, and a favorite in our kitchen, Texas Twinkies. For a complete roster of appetizers, check out our Game Time menu.
The Main Event
Now that your appetite is whet, it's time to bring out the all-stars. Have a taste for burgers? We have you covered with our mini burger bar! Are sandwiches your thing? We've got 'em!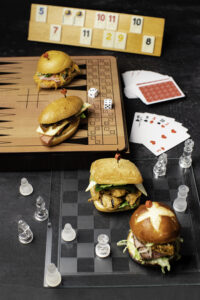 Our extraordinary miniature sandwiches are ordered by the dozen and are sure to please. The beef sirloin, Vietnamese pork Bahn Mi, and grilled salami sandwiches are just three examples of ways to impress above and beyond the tired old submarine sandwiches. For added variety, try the white cheddar mac and cheese or chicken tamale pie. No matter what your taste, we are certain you'll be delighted!
Sideline Salads
These salads are not your run-of-the-mill iceberg-lettuce-and-cherry-tomato offerings. Think fajita steak salad, Caribbean shrimp Cobb salad, and quinoa & black bean salad and you will begin to get a sense of the possibilities!
And the Final Score Is…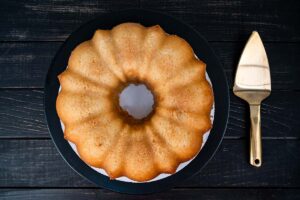 No big food event is complete without that memorable dessert for the win! Lay out a spread of our skybox cookie & brownie assortment, mini whoopie pie assortment, winter citrus fruit display, or the you-have-to-try-it-to-believe-it bourbon butter bundt cake, and your guests will leave happy no matter the score of the game!
So Much More!
For a complete roster of all our Game Time offerings, check out our Game Time menu or call one of our Event Coordinators at (847) 966-6555. We are here to help you design your personal and perfect party!