Passover is an important holiday filled with celebration, family, and, of course, delicious food. Hosting Passover can require a lot of preparation and time in the kitchen. And extra time is a precious commodity that few of us have. Instead of stressing over the menu and spending all day prepping and cooking, let us take care of this celebratory meal for you!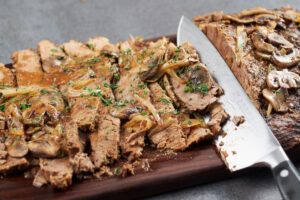 What is Passover?
Passover (Pesach in Hebrew) is one of the most sacred and widely observed holidays in Judaism. And, like with all important holidays, food plays a central role in the festivities, both to bring family and friends together and as religious symbols.
The Torah commands the observance of seven days of Passover to commemorate the exodus of the enslaved Israelites from Egypt. It is a spring celebration of birth, rebirth, and the journey from slavery to freedom.
The holiday beings on the 15th of the Jewish month Nisan. This year, Passover runs from April 15 to April 23, 2022.
On the first two nights of Passover, families and friends gather for a feast known as Seder. During the meal, the tale of the exodus is told and rituals corresponding to various aspects of the story are performed.
The Seder Plate
The Seder Plate is an integral part of a Passover meal. Catering by Michaels offers a traditional Seder Plate with enough to accommodate 10 guests (orders are available for more in multiples of 5).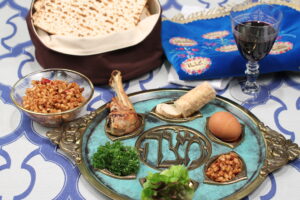 Each item on the plate is significant in terms of what it symbolizes:
Z'roa: A lamb shank represents an offering to the Temple.
Beitzah: An egg is a symbol of rebirth.
Maror: Bitter herbs are used to represent the bitterness of enslavement.
Chazeret: Is a bitter green, which is eaten with the maror.
Karpas: A non-bitter vegetable will be dipped in salt water to symbolize tears from enslavement.
Haroset: A combination of nuts, apples, and wine represents the mortar and bricks used by the enslaved Jews.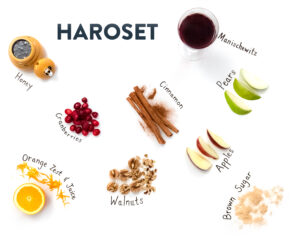 The Passover Meal
The Passover meal is an extremely important component of this holiday.
When the Jewish people left Egypt, they didn't have time to wait for their bread to rise. The tradition of eating unleavened bread (also known as Matzah bread) is one that has remained part of the meal.
It is with these traditions in mind that we have crafted a specialized menu for the Passover holiday, which incorporates old tradition with a new twist of flavor.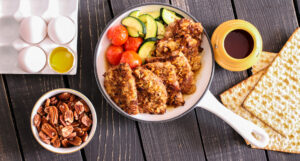 In addition to more traditional items, such as Matzo Balls, Chicken Soup, Homemade Haroset, and Gefilte Fish, we also offer modern takes on these dishes, like Honey Pecan Matzo Crusted Chicken, Haroset Braised Short Ribs, and Vegetable Matzo Lasagna.
Deadlines & Important Times
All Passover orders must be confirmed by Friday, April 8th at 5:00pm Additions, changes or deletions to Passover orders must be made before Saturday, April 9th at noon.
Delivery Details
Deliveries will take place on Friday, April 15th, or Saturday, April 16th between 8:00am until 4:00pm We are currently operating with a reduced delivery staff and have limited delivery slots available. Delivery is additional, based on location, and will take place within a minimum 3-4 hour time frame. We are sorry, but due to the volume of orders that need to be delivered in a small amount of time we are unable to accommodate special time frame requests or "closer to's". If no one is home at the time of delivery, your order will be delivered at the end of the driver's route – near or after 3:00pm and you will be charged an additional delivery fee.
Pickup Order Details
You can place orders of any size for pickup. To support as many orders as possible, this year we have added several new pickup options in the city and suburbs! Call us for complete details, or see the Passover menu for a complete list of pickup locations.
We Are Here For You
We have complete packages, a la carte offerings, and, of course, complete Seder plates. From appetizers to salads to entrees to sides and even desserts, we have all your Passover needs covered!
Browse our complete Passover menu for more ideas and to plan your feast!