The glint of foil-wrapped chocolate rabbits, the tang of egg-dye vinegar, the artificial grass you will continue to find under the chair until the Fourth of July…these can all mean just one thing: Easter is coming!
Easter. It's a time of renewal and rebirth. It's a time to celebrate the end of winter and the arrival of brighter days. It's a time to gather with family and friends. And it's also a time to enjoy the fresh flavors of Spring! Catering by Michaels is here to help you capture all the promise of the new season on every plate you serve!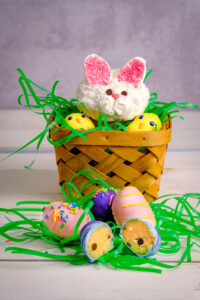 Say "Easter" and What Comes to Mind?
From small children to grandmothers and grandfathers, Easter evokes images of colored eggs hidden for sport, baskets of candy, and biting ears off of chocolate rabbits. But in our Catering by Michaels kitchens, we think of seasonal fare worthy of sharing with those you love.
The Food: Breakfast/Brunch
Our dedicated Easter menu features a lovely combination of traditional favorites and new discoveries. Do you prefer a bright Easter breakfast or brunch? We have you covered. Try our fun and flavorful French Toast Kebobs (glazed with a caramel Grand Marnier sauce and skewered with fresh grilled pineapple and a fresh strawberry), our Breakfast Strudel (with scrambled eggs, mushrooms, spinach, tomato, and cheddar cheese), Hearty Frittata (loaded with Canadian bacon, fresh spinach, onion, roasted red pepper, and baby Swiss, accompanied by our homemade chunky salsa), or our ever-popular Chocolate Chip Pancakes.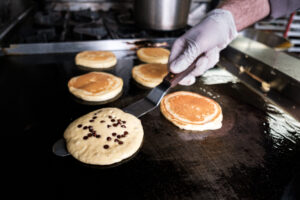 We have bacon (prepared two different ways!). We have Yukon Potato Hash. We even have Pancake Wrapped Sausages, skewered and served with Mike's Hot Honey.
The Food: Appetizers and Sides
Are you looking for something delightful to whet your appetite or accompany your entree? Look no further! Choose from a variety of salads: Springtime, Caesar, Spinach & Wild Cherry, Cranberry Pecan Israeli Couscous, and even the family favorite Bowtie Pasta Salad.
We have two different cheese displays, Petite Pups en Croûte (a favorite around our CBM office!), Grilled Baby Lamb Chops (you can't get more traditional!), pulled BBQ Pork Quesadillas, and a variety of truly delicious soups.
And we are just getting started with these starters and sides! We have potatoes to please every palette, innovative vegetables from grilled to steamed to creamed, to brown butter honey glazed. And don't forget our famous White Cheddar Macaroni & Cheese or our elegant Cauliflower & Champagne Gruyere Gratin.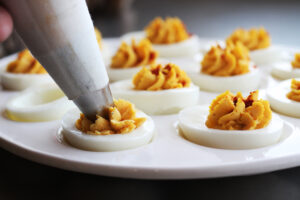 And, yes, we have Deviled Eggs!
The Food: Entrees
Ohhhh, the entrees! You'll smile from ear to ear after your first bite of Mom's Sliced Brisket. You'll wow your guests with the impressive Whole Beef Tenderloin with Mustard Merlot Sauce. Of course, what Easter table wouldn't be complete without an Apple Cider Glazed Spiral Sliced Ham!
Chicken-wise, we have you covered with Chicken Piccata and Chicken Milanese.
For fish fans, we have Salmon en Croûte and our Horseradish Encrusted Whitefish. For the vegetarians, look no further than our Vegetables en Croûte: layers of grilled portobello mushroom, zucchini, yellow squash, asparagus, and red pepper, wrapped in sautéed spinach and puff pastry baked until golden brown, served with Manchego cheese sauce.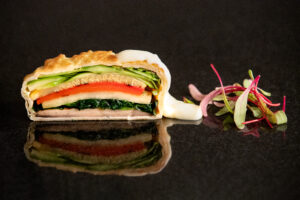 The Food: Desserts
And how can you call a celebration a "celebration" without dessert? Delight children and adults alike with our Easter eggs and Baby Chicks, Easter egg decorated edible chocolate chip cookie dough and baby chick decorated yellow cake balls.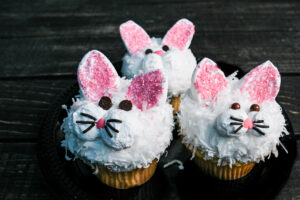 Bundts? We've got them! Lemon Blueberry and Red Velvet, to be exact. Fill out your dessert table with traditional Carrot Cake, an Easter French Macaron Assortment, Easter Bunny Cupcakes, Miniature S'Mores on a Stick…the list goes on. Have a look at our menu for a full rundown of all our chef-prepared desserts!
Easter Deadlines & Important Times
All Easter orders must be confirmed by Friday, April 8th at 5:00pm Additions, changes or deletions to Easter orders must be made before Saturday, April 9th at 1:00pm
Delivery Details
Deliveries will take place on Saturday, April 16th between 11:00am until 4:00pm, or Sunday, April 17th between 6:00am until 2:00pm.
Please note we are currently operating with a reduced delivery staff and have limited delivery slots available. Delivery is additional, based on location, and will take place within a minimum 2-3 hour time frame. We are sorry, but due to the volume of orders that need to be delivered in a small amount of time we are unable to accommodate special time frame requests or "closer to's". If no one is home at the time of delivery, your order will be delivered at the end of the driver's route – near or after 2:00pm and you will be charged an additional delivery fee.
Pickup Order Details
Orders of any size may be placed for pickup. A handling fee of $5 is added to all pickup orders to cover the costs of operating these sites. To support as many orders as possible this year we have added several new pickup options!
We Are Here For You
At Catering by Michales, we are proud to be a part of your family and friends' celebration of Spring! Browse our complete Easter Menu for more ideas and to plan your feast!