Summer is upon us. Lazy days. Picnics. BBQs. Eating fresh. Gone for now are the heavy, comfort foods of autumn and winter, replaced by lighter fare.
Just as the seasons change, so do our Catering by Michaels menus. And like the first butterfly of the season or that first whiff of Sunday charcoal, the arrival of our Summer menus signals the arrival of longer days, warmer temperatures, and happy gatherings with friends and family.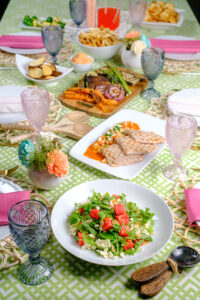 A Chef-Curated Summer: The Day Begins
From morning to late night, our chefs have crafted a menu to satisfy every moment of your summer.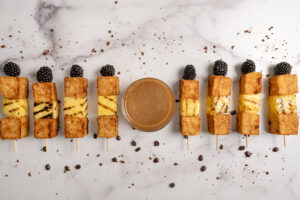 Looking for an effort-free breakfast or brunch? We have you covered with everything from chia pudding and berry parfaits to frittatas & quiches to chicken or tuna salads to our new—and new favorite—French Toast Kebobs. Don't forget the thick-cut bacon, chicken breakfast sausage, and new crispy hash brown cakes!
A Chef Curated Summer: Dips & Displays
Summer is all about relaxing. And with our dips and displays, you can have easy, delicious fare delivered straight to your door. Fresh vegetable crudites with spinach scallion dip will please the noshing crowd. Our summer skewer display (with grilled adobo chipotle beef sirloin skewers, Greek marinated lamb skewers, cilantro lime-marinated grilled shrimp skews, and cilantro lime-marinated grilled Brussels sprout skewers are sure to please myriad pallets. You can mix 'n match maki. Serve a show-stopping summer shrimp sampler or market charcuterie & cheese display or surf & turf display, and see your guest's eyes light up!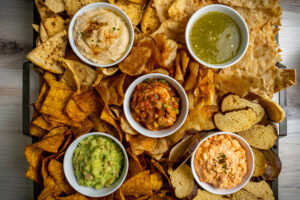 Want an alternative to run-of-the-mill chips and dip? Try mixing and matching Catering by Michaels chips and dips. Choose from seven different dips, and pair them with five delicious varieties of chips to create your own snack buffet.
A Chef Curated Summer: Appetizers & Mini Sandwiches
Your summer food festival is just getting started! Delight your guests by serving crowd-favorites such as petite pups en croute (pigs in a blanket!), puled BBQ Chicken quesadillas, and sweet or savory beggar's purses. House-made empanadas, egg rolls, and potstickers, all wrap summer up in tasty packages.
And don't forget Serbando's famous nut mix!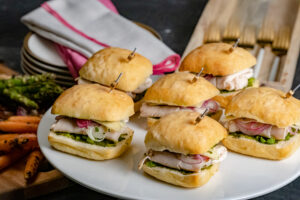 Our mini sandwich selections covers so many flavors, inspirations, and dietary considerations, from traditional to innovative, from vegan and vegetarian to delights from land and sea…all between freshly baked bread.
A Chef Curated Summer: Entrees
Summer entrees…what beautiful words! A smoked paprika flank steak display, a sliced beef tenderloin display, Szechwan chicken lettuce wraps, a taco bar…you can wow your guests without the work.
Looking for vegan, vegetarian, and gluten-free options? We can accommodate with grilled whitefish, orange herb grilled salmon, soba noodle salad with tofu, zucchini spaghetti & vegan ragout, and even the ever-popular white cheddar macaroni & cheese!
But what's that? You say you want to be a little more hands-on and a little more traditional? We are here for you! We have a variety of pre-grilled items you finish cooking in your oven for the easiest backyard grilling party without the grill! Hamburgers, hot dogs, skirt steak, and chicken are all available for you to feed the entire crowd.
A Chef Curated Summer: Salads & Sides
Salads and sides complete a meal, and we have them in abundance. Sumer chopped salad, Chinese chicken salad, watermelon & feta salad…these are just the start of an extensive array!
Add in elote corn salad, grilled corn cobbettes, asparagus with Meyer lemon aioli, and Michaels homemade baked beans, and you are still just scratching the surface. Our summer menu has a full listing for your perusal!
A Chef Curated Summer: Dessert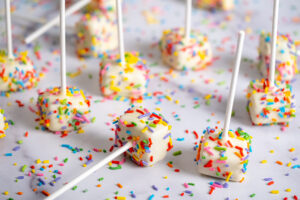 You did save room for dessert, didn't you? Classic favorites (think homemade Twinkies, gourmet Rice Krispy treat assortments, bundt cakes, and a sundae bar) shine alongside new classics such as confetti cookie dough lollipops, key lime pie push pops, and lemon semolina cookies.
We have fruit kebobs. We have dessert bars (traditional and gluten-free). We even have a berry bar featuring blackberries, strawberries, blueberries, and raspberries served with creme Anglaise, brown sugar, and whipped cream.
How to Order Your Chef Curated Summer
For personalized menu suggestions, or to order your own chef curated summer, contact us and we will be more than happy to work with you.
Order Online – WWW.CATERINGBYMICHAELS.COM/ORDERCATERING
Contact us via email at EVENTS@CATERINGBYMICHAELS.COM
Or give us a call at (847) 966-6555