One of our favorite things about Catering by Michaels is the different cultures and religions on our team. Many members of our team are not familiar with the Jewish holidays when they join our company. Since these holidays are a big part of our business, we always take the time every year to teach the traditions and cuisine of each holiday.
On Yom Kippur, people will come together for fasting and prayer from before sundown on the previous night until after sundown on the day of the fast. This means no food or drink is consumed for 24 hours. Foods that are comforting, filling, and requiring minimal preparation are the perfect foods to eat after a day of fasting.
Food and Tradition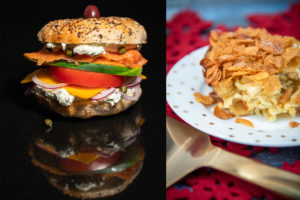 Bagels with all the fixings are one of the most popular food items on Yom Kippur because they are a quick way to break the fast. It is so awesome to see one of our staff eat a fresh New York style bagel with lox, cream cheese, and all the toppings for the first time or a noodle kugel, which is a sweet noodle dish. Of course, we have all had bagels before, but many have never had them with lox and all the fixings.
Food and tradition go hand in hand with every holiday and for weeks leading up to the event, we get the privilege of tasting all the traditional foods of every holiday. It is a fantastic way to teach our team about each holiday first-hand and have our kitchen team practice making every dish before the big day.
During these uncertain times, it's comforting to find continuity and unity in ritual and belief. Rosh Hashanah and Yom Kippur, the high holidays, are an opportunity for us to look forward and to reflect. This year more than ever, we approach the high holidays with appreciation that our team has the privilege to deliver you a scratch-made meal from our kitchen to your home.
The Yom Kippur Menu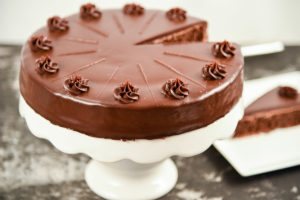 Our Yom Kippur menu consists of dishes that can be served cold or at room temperature. These include deli platters, salads, bagels, tenderloin displays, smoked fish, and desserts. Go to our website to start planning an event around the holiday.
We've structured our menu to make it easy—and delicious—for you to layout a comforting table after a long day at the temple, particularly when you don't have a lot of time to prepare food for your family and guests.
Celebration in the Time of COVID
COVID-19, quarantines, and social distancing have transformed all of us. The hospitality business is no exception. All of us at Catering by Michaels are so thankful for your support, loyalty, and understanding during this time. We are thankful for the opportunity to help you celebrate the holidays and to be a part of many more celebrations in the future.
Health and safety have always been of the utmost importance to us. To maintain our exemplary safety during COVID-19, we have made a few changes for the Rosh Hashanah and Yom Kippur holidays:
• We have created new small group packages to accommodate smaller gatherings this year.
• We have lowered the minimum quantities required to order on certain menu items.
• We have reduced the number of menu options available to order to streamline our production.
• We have switched to all disposable packaging, no baskets or pyrex dishes will be used this year.
• We are offering no contact curbside pick-up at our office in Morton Grove and several new locations.
• We are offering only contact-free deliveries (delivery drivers will not enter homes and will not unbox food).
Deadlines & Important Times
All Yom Kippur orders must be placed by Monday, September 21st at 5:00 pm.
Additions, changes, or deletions to Yom Kippur orders must be made before Tuesday, September 22nd at 12:00 pm.
Delivery Details
Deliveries will take place on Monday, September 28th between 12:00 pm and 6:00 pm. A limited amount of deliveries are available before 12 pm, ask an Event Coordinator for details.
All deliveries will be contactless. Drivers will not enter your home. Orders to high rise buildings will be left with the doorman.
Pickup Order Details
All pickups will be curbside and contactless.
Orders may be picked up from our Morton Grove office on Monday, September 28th between 10:00 am until 5:00 pm.
Orders may be picked-up from Banner Day Camp in Lake Forest on Monday, September 28th between 12:00 pm until 5:00 pm.
NEW OPTION Orders may be picked up from The Highland Park Country Club on Monday, September 28th between 12:00 pm until 5:00 pm.
NEW OPTION Orders may be picked-up from Fairlie event venue (339 N Bell Ave., Chicago) on Monday, September 28th between 12:00 pm until 5:00 pm.
Orders of any size may be placed for pickup. A handling fee of $5 is added to all pickup orders to cover the costs of operating these sites.
Let's Break the Fast Together
Join us to see how we're providing traditional Yom Kippur meal standards during these non-traditional times. Catering by Michaels delivers all the staples for breaking a Yom Kippur fast as a community.
Get in touch by giving us a call at (847) 966-6555 to plan all your Yom Kippur catering needs!