This year, Rosh Hashanah is particularly meaningful. The holiday marks the beginning of a new year in the Jewish calendar. And beginnings are an opportunity to look toward the future while acknowledging the past which brought us here.
Rosh Hashanah is a time to reflect on family, happiness, and humility. During these times of the COVID-19 pandemic and political/social uncertainty, all of us at Catering by Michaels believe family, happiness, and humility are the perfect antidotes to the extraordinary circumstances of 2020.
We read an amazing article in The Jerusalem Post about celebrating Rosh Hashanah during COVID-19. Andy Slavitt, a former Obama administration official who ran Medicare and Medicaid, says, "This is a year for maximum creativity! When I say use creativity, don't lose the spirit of what makes the holiday special!" We couldn't agree more and can help be your creative partner.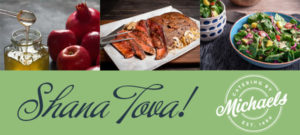 Food for The Soul
While Rosh Hashanah celebrations may look slightly different this year due to social distancing, it is vital to maintain the traditions which help us find meaning in a confusing world.
One of these traditions is the Rosh Hashanah table. Food is essential to the soul. It nourishes us both physically and spiritually. Catering by Michaels is proud to serve your family's table again this year, just as we have for the past 40 years.
Celebration in The Time of COVID
The pandemic has been tough on everyone, especially the hospitality business. One of the best ways you can support our small business is by ordering from us for Rosh Hashanah and Yom Kippur.  We have made all the changes to our operations so we can continue being a part of your holidays.
Health and safety have always been of the utmost importance to us. To maintain our exemplary safety during COVID-19, we have made a few changes for the Rosh Hashanah and Yom Kippur holidays:
We have created new small group packages to accommodate smaller gatherings this year.
We have lowered the minimum quantities required to order on certain menu items.
We have reduced the number of menu options available to order to streamline our production.
We have switched to all disposable packaging, no baskets or pyrex dishes will be used this year.
We are offering no contact curbside pick-up at our office in Morton Grove and several new locations.
We are offering only contact-free deliveries (delivery drivers will not enter homes and will not unbox food).
From Our Family to Yours: Packages
Mom's sliced beef brisket. Stuffed free-range chicken breast. Orange herb grilled salmon. These traditional entrees are among the choices which comprise our complete dinner package. Round out your meal with your choice of vegetables, kugel, and all the accompanying items (apples & honey, challah, chicken soup with matzo balls, and so much more!).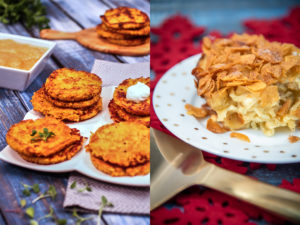 Are you looking at a smaller celebration? Our Small Group Package feeds two people with leftovers or is just perfect for four. You'll enjoy an entree, vegetables, sides, and even a challah.
All Your Favorites
Of course, we also offer so many of our traditional a la carte appetizers, entrees, sides, and desserts for you to craft your own Rosh Hashanah table. Start with chopped liver (either beef or vegetarian), petite pups (a CBM sales office favorite!), gefilte fish, and more.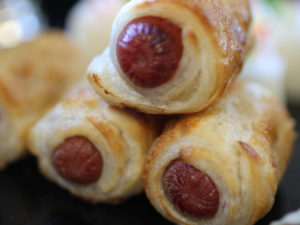 How about an entree? We offer beef tenderloin, brisket, chicken selections, salmon, even cauliflower steaks.
Round out the table with salads, vegetables (green beans, grilled vegetable medley, brown butter honey glazed tri-colored carrots, potato choices), and kugel.
And don't forget dessert! We have cakes, cookies, bars, and the most delicious bundt cakes. Trust us – they are so yummy!
Contactless Delivery to Your Door
All Rosh Hashanah orders must be placed by Friday, September 11th at 5:00 pm.
Deliveries will take place on Friday, September 18th or Saturday, September 19th, between 8:00 am until 4:00 pm.
All deliveries will be contactless. Drivers will not enter your home. Orders to high rise buildings will be left with the doorman.
Prefer Curbside Pick-Ups?
We also offer curbside, contactless pick-ups. Orders may be picked up from our Morton Grove office on Friday, September 18th, between 9:00 am until 3:00 pm or Saturday, September 19th, between 9:00 am until 3:00 pm.
Orders may also be picked-up from Banner Day Camp in Lake Forest on Friday, September 18th between 10:00 am until 3:00 pm.
NEW OPTION Orders may be picked up from The Highland Park Country Club on Friday, September 18th, between 10:00 am until 3:00 pm or Saturday, September 19th, between 10:00 am until 2:00 pm.
NEW OPTION Orders may be picked-up from Fairlie event venue (339 N Bell Ave., Chicago) on Friday, September 18th, between 10:00 am until 3:00 pm or Saturday, September 19th, between 10:00 am until 2:00 pm.
Shanah Tovah!
The Catering by Michaels Team understands that the holidays look different this year. Still, celebrating and being with loved ones (whether in person or virtually) has never been more important. We look forward to being a creative part of your holiday!