I don't know about you, but I always like to have something to look forward to, especially now, during this global pandemic. I cannot even believe that September is almost here, and the end of summer is near. I always loved Labor Day weekend as a kid – it normally meant summer days full of pool swimming, lake house weekends, and delicious backyard barbecues with friends and family. As an adult, Labor Day weekend normally means a weekend full of events or on the rare occasion we have the weekend off, a road trip, or a short flight somewhere for a long weekend with adventures, great food, and time with my husband, friends, and family. This year definitely looks a little different, but that doesn't mean it can't still be full of your favorite things!
Labor Day
Labor Day pays tribute to the contributions and achievements of American workers to the strength, prosperity, and well-being of our country. The last five months have been so hard, especially in the hospitality business, and our industry is struggling to survive. One of the best ways to support the hospitality industry is to order and buy from local businesses. We are a catering company and can't wait to get back to a full calendar of spectacular events. Until that can safely happen, we have created many ways for you to support our business in a smaller way.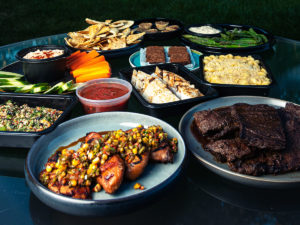 One of my favorite things we have created is our grilling experiences and the Labor Day one is my favorite so far! We would love nothing more than to do the work for you so you can relax and celebrate safely on Labor Day. We have the perfect formula so you can enjoy the company of friends and family while we do all the meal prepping and planning!
The Formula
1 – Order our Labor Day Grilling Experience! The process couldn't be any easier! Pick your quantity. Click add to cart.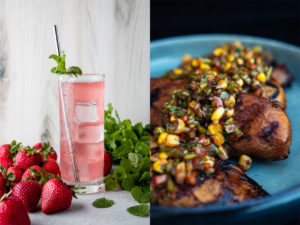 2 – Add a Cocktail Kit! No summer barbecue is complete without some yummy beverages! We have delicious varieties of homemade lemonade and agua frescas for the kiddos and DELICIOUS batched craft cocktails for the adults! No one wants to be stuck behind the bar when they can simply pour an already perfect batched cocktail made by us! Pick your favorites and add them to the cart! Want a few extra sides or desserts – we have those too! Time to check out – pick either curbside pickup (free) or contactless delivery ($20.00 for a 5- hour window) That's it!
3 – Invite your Friends & Family! Now that you have ordered our Labor Day Grilling Experience – this will be the easiest backyard BBQ ever. All you have to do is invite your favorite people! We have done all the work so you can enjoy the company of friends and family and make stress-free memories!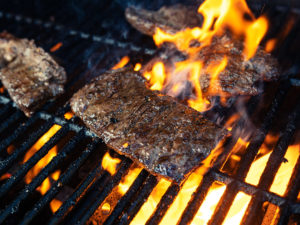 4 – Light the Grill! Who is ready for some delicious food? While the grill is warming up – enjoy our favorite starters – house-made cauliflower hummus with cucumber slices, carrot sticks & homemade herbed toasted pita triangles and our deliciously addicting BBQ chicken quesadillas with fresh salsa. Time to toss our marinated grilled chicken breasts and BBQ marinated skirt steaks on the grill. Let's talk about the sides – asparagus with Meyer lemon aioli, mojito quinoa salad with a honey-rum vinaigrette, and our famous white cheddar macaroni and cheese. Pour one of those delicious craft cocktails and Cheers to your friends and family being together in a safe way! Finish off your backyard bash with our miniature mixed berry pies and our salted caramel brownies! Yum!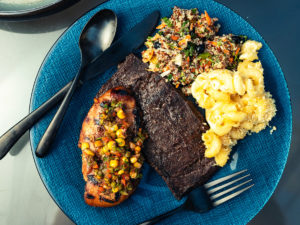 The perfect backyard barbecue is as easy as 1 – 2 – 3 – 4! This grilling experience is available for pickup or delivery from September 3rd to September 7th!
Happy Grilling!