It is so hard to believe that we are halfway through October and already thinking of Thanksgiving. One of my favorite things about Thanksgiving is all the traditions and memories associated with the holiday. My job as a kid was to set the Thanksgiving table. I took this job very seriously. When I was about 7, I made salt dough turkey cut-outs and then hand-painted them with my sister and cousin. My mom still uses them at every place setting to this day. As I got older, I was in the kitchen with my mom all week leading up to the big day and those are some of my favorite memories cooking all day with my mom.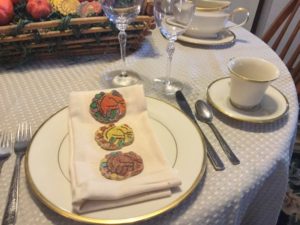 Now that I am grown, setting a Thanksgiving table is one of my very favorite parts of hosting the holiday. My Nan taught me how to properly set a table and I think of her as I take out every piece of china, flatware, and glassware from the breakfront that once sat in her home. The memories of the holiday are such a part of the nostalgia and love of this day. When I got married to my husband, I knew my Thanksgiving traditions would change. We decided since my husband works on Thanksgiving that we would celebrate Thanksgiving with his family in Chicago and Christmas with mine in Indianapolis.
New Traditions
The first Thanksgiving in Chicago was super weird for me. My husband was at work and I was at home alone for most of the day – no cooking to do, no family with me, watching the Thanksgiving parade alone on the couch. I'm pretty sure I cried. My husband's family tradition is to go to The Peninsula on Thanksgiving night. I was very dubious of the experience and was positive that going to a hotel for Thanksgiving was the strangest thing ever and the polar opposite of the loud and raucous celebration that was familiar to me. This night is one of my husband's favorite nights of the year – especially after a long day at work so I was skeptical, but also intrigued. Guess what happened? I LOVED it – it was amazing! The sheer volume of different choices to eat and drink was so fun for this food-loving gal. I didn't eat a single Thanksgiving type food item (although there were plenty to choose from) because I was so in awe of all of the other choices. The experience was mind-blowing to me in the best way. We walked home that first Thanksgiving with very full bellies and the happiest of hearts, together. I understood now and although his traditions were so different than mine, it is one of my very favorite nights of the year. To merge some of our traditions and our love of cooking and entertaining, we have also started hosting a Friendsgiving the Friday after Thanksgiving, complete with all the bells and whistles of Thanksgiving but none of the stress. I get to set a beautiful table, I cook a few house favorites, but we order the rest of the meal from Catering by Michaels and have all our favorite people over. It is the best of both worlds for me and I cannot wait to get back to those normal traditions of Thanksgiving!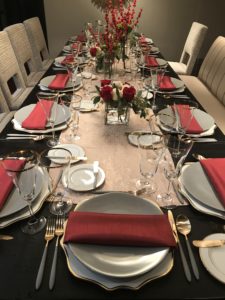 A COVID Thanksgiving
I have talked with so many friends, clients, and family members who are all trying to figure out how to approach Thanksgiving this year. With the COVID-19 pandemic still affecting how we gather this year, all these amazing Thanksgiving traditions might look different for many households this year, including mine. While we are dreaming of larger gatherings, we know that is not possible right now, so we have had to change our approach to our Thanksgiving menu traditions. We know many that are cringing at the thought of cooking Thanksgiving dinner for a smaller crowd, so we are here to help and have many new options for you. New this year, we have created a small dinner package for four that includes all your Thanksgiving favorites, reduced the minimums on so many menu items to accommodate smaller crowds, and added in several locations in the City and suburbs for contactless pickup. The COVID-19 pandemic has had a profound impact on our company and the hospitality industry, but we are still so committed to giving back. This year you can also buy a dinner for a family in need. Here's how it works – you pay 50% of our small dinner package price and we will donate the other 50%. All meals will be donated to the Northwestern Settlement food pantry in the Noble Square neighborhood of Chicago. $59.00 provides a meal for 4 to a family in need who will be so thankful.  It is as easy as ever to use this holiday season to support our small, local business and make your Thanksgiving meal mess-free and stress-free.
Our menu is live – www.cateringbymichaels/thanksgivingmenu and our Event Coordinators would be happy to help in any way with your celebration! Reach out to us at 847-966-6555 or email us at events@cateringbymichaels.com.
It has been a hard year for everyone, but it is so important to still celebrate Thanksgiving, even if you have to make some new traditions this year. We would love to be a part of your celebration!