It's festival season in Chicago and our favorite music festival, Lollapalooza, is right around the corner! We've been privileged to take part in catering Lollapalooza for the VIP & Platinum Lounges for the past 6 years. In the spirit of this upcoming event, we'd love to share the positive impact we've had in our previous involvements with the festival.
For those of you not familiar with this popular festival, here are some impressive Lollapalooza facts by the numbers:
• Over 160,000 fans in attendance over 3 days (this year it will be 4 days!)
• 130+ performing musical artists (both emerging and world famous)
• 115 acres within Grant Park and multiple stages spread out to take advantage of the space
• 25+ years of continued excellence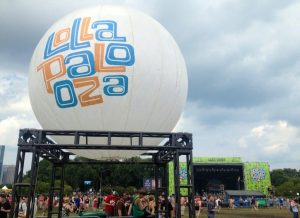 There is certainly no shortage of food options for general admission Lollapalooza attendees, but Catering by Michaels was tasked with providing an unforgettable food and beverage experience for VIPs who travelled near and far for this event. Each VIP and Platinum lounge had it's own distinct theme and required a unique menu to match the atmosphere.
Here are some features of each Lollapallooza VIP area we catered last year:
Instead of going with the traditional buffet setup most festivals default to for VIPs, the VIP LollaLounges featured an upscale food court experience where attendees dined on gourmet versions of concession stand favorites, like a taco stand with beef barbacoa tamales and Mexican street corn, and a picnic station with fries served with sriracha ranch and sliders topped with tomato jam on a pretzel bun.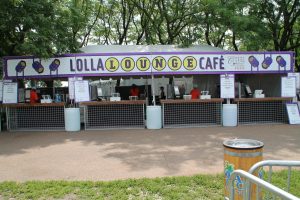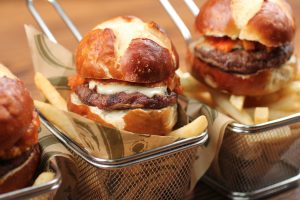 The Platinum Lounges featured a more intimate experience, and dining options took after food favorites you'd find at summer parties.
Our Platinum Lounge setup was certainly something to behold. A few features:
• Fresh florals and exotic bamboo (to complement a jungle theme)
• Exquisite art pieces and saturated colors
• Comfortable furniture
• Big screen television monitors
• Air conditioning (incredibly important during hot summer festivals!)
• Custom bars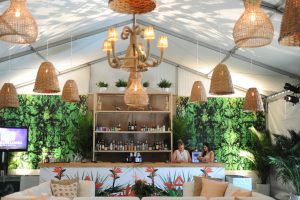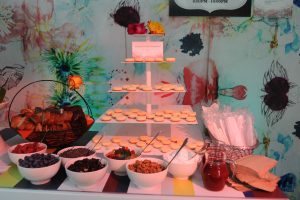 Additionally, the Samsung Artist's Lounge and Samsung Owner's Lounges featured an "Urban Loft" theme with chic and modern buffets.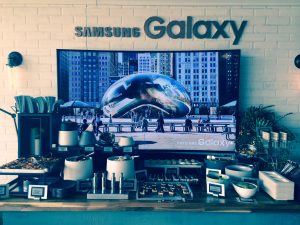 Food items highlighted upscale twists on classic Chicago fare, including prime rib "Italian beef" sandwiches topped with bone marrow butter, deep dish buffalo chicken pizza muffins, and a gourmet popcorn station with toppings including chili lime sea salt, bacon bits, peanut butter powder, and pretzel twists.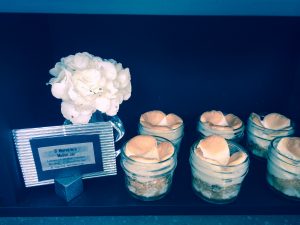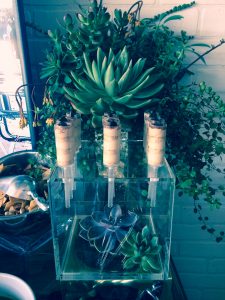 One of the most important initiatives for a large-scale event like Lollapalooza is reducing environmental impact as much as possible. On their part, Lollapalooza hires volunteers and other outside organizations to assist with waste recovery, water stations, and other activities on the front lines of the event.
Sustainability has always been an important part of everything we do, so we were happy to comply with Lollapalooza's commitment to the environment in every way possible. A few features of our sustainable involvement at Lollapalooza include:
• Disposables (plates, cutlery, bowls and napkins) were biodegradable and met certain sustainability requirements
• Separate containers were offered for recycling and composting
• Our employees used public transportation or their bikes to get to Grant Park
• Arrangements were made for Salvation Army to pick up leftover food to be redistributed to area shelters
Another important aspect of our Lollapalooza involvement was using organic and locally-sourced ingredients in the dishes we made.
It's because of these efforts that Catering By Michaels received the honor of Best Green/Responsible Event in 2013 and 2014, in addition to the 2015 NICE Award. Learn more about our recognition for sustainable practices, and what was involved in receiving these awards.
We'd like to thank Lollapalooza for the chance to do what we're best at – creating unique and delicious experiences for large groups of people. Despite the challenges involved in catering for multiple concepts at a huge festival, we walked away with big grins on our faces and hope to be able to do it again!