We were proud to be the caterer once again for the ILEA (International Live Events Association) Chicago Chapter's annual Masters' Dinner.
The dinner took place after the Day of Education. Invited attendees included only those ILEA members who have worked in the special events industry for a minimum of 10 years or have been a business owner for a minimum of 5. Conversation and conviviality filled this lovely evening!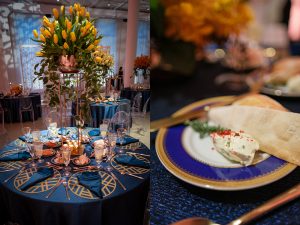 ILEA Chicago's intent was to provide an opportunity for attendees to mingle and engage with the speakers who had presented at the Day of Education earlier in the day.
Once again, the event was held at one of our favorite venues, Chez; a beautiful space in downtown Chicago.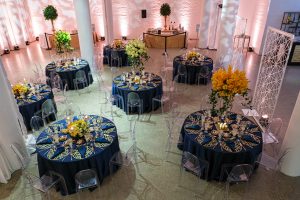 "Wow Factor"
For an event like this, filled with industry professionals, we had to craft a menu that would really deliver the "wow factor."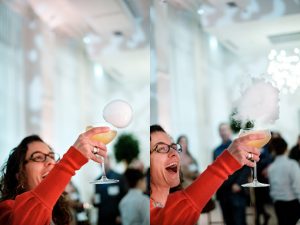 We started the evening with our newest cocktail innovation, the Citrus Bubble. We dropped a citrus-infused smoke bubble from a story above the event floor. Upon catching the bubble in a festive glass of our Winter Citrus Puch, the bubble burst with a plume of citrusy goodness, enveloping the cocktail with intense flavor. ⁠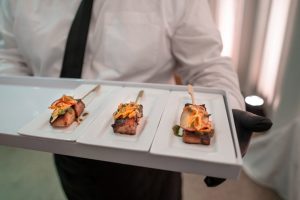 From there, we passed a variety of hors d'oeuvres and small plates.
The Action Stations
Dinner consisted of three chef-staffed and prepared action buffet stations. We offered individually made Zucchini Blossoms stuffed with zucchini, corn, red peppers, and mozzarella atop corn & black bean salad with chipotle dressing.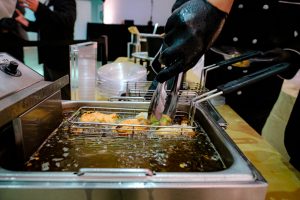 Next, we presented Smoked Salmon Latke, house-cured ginger citrus salmon on a crispy potato pancake topped with lemon-scented crème. Then the chef smoked each plate under a dome with our smoking gun at the moment of presentation!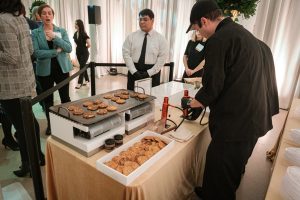 Finally, we offered one of our newest action stations, Duck Duck Sous Vide. We sous vide duck breast, seared it to order, and served it with confit leg of duck, chanterelle mushroom flan, puffed shrimp chip, and a port wine ginger reduction.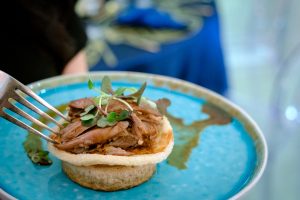 We wanted to end the evening on a delightfully sweet note. To do this, we created a special dessert: a Bourbon Butter Cake which was a work of art on a plate!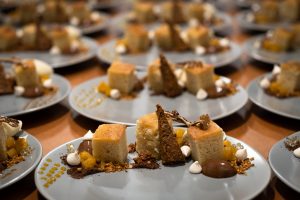 Our Event Partners
As always, we enjoyed working with the ILEA Chicago Chapter at Chez, as well as the other wonderful partners for this event: AFR Furniture Rental, AV Chicago, BBJ Linen, BeatMix Music, Colin Lyons Wedding Photography, Halls Rental, and Kloeckner Preferred Flowers.