Easter seems kind of late this year, huh?
While it may seem far away, it's never too early to start planning. Some people even start right after Christmas! Now that's probably too early, but spring is when the early bird gets the worm and it's time to get ready.
If you're in charge of creating festivity in the office, there are lots of fun ways to celebrate Easter.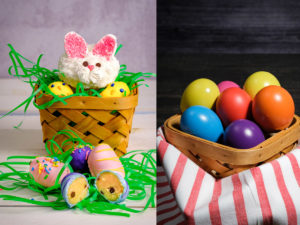 Enjoy a meal with your team
Whether you're the boss or part of a team that just had an amazing Q1, Easter is a great time to do something out of the ordinary — like treating your colleagues to a delicious meal.
A simple breakfast or light lunch is enough to let your work-family know you value them. All you have to do is order from a service like Catering by Michaels and everything will be done for you, including service and clean-up.
Your only job will be accepting the credit for a beautiful spread!
Give gifts (of chocolate)
If you're looking to give officemates something to complement a meal, a package of chocolate Easter eggs is always a great gift and will brighten someone's day. It's also a good choice if you're watching your budget.
Go a step further and attach a handwritten note expressing your appreciation. Guaranteed joy-giver!
Don't forget the decorations
To complete your setup, consider placing some Easter-themed decorations in key areas around the office. It will not only brighten the mood and set a festive tone for the holiday weekend, but will also create a feeling of community.
For the most impact, decorate the boardroom, staff kitchen, and reception area. Brainstorm ideas as a team, check Pinterest, or ask for tips from your social media audience.
The decorations don't have to end with your office walls. Encourage your team to dress up in theme — you might even organize a contest to motivate people to participate.
Easter egg hunt
An Easter egg hunt would be a welcome activity to get everybody away from their desks.
If you have a playful office environment, you can create a fun egg hunt to get different teams and individuals interacting with each other.
Get some drinks going
Okay, you don't want to get people super intoxicated (that's not work-place appropriate), but a simple bottle of wine or champagne at the end of the week will help everybody usher in the holiday weekend with a good mood.
If you want to stay on-brand with the holiday, you can try to create some Easter-themed spring cocktails.
Let us help you celebrate
Easter is a holiday to spend with family. Whether it's at home or the office, it's the right time to slow down a little and let the people around you know that you care about them.
And in the situation that someone organizes a better Easter activity than you, this is the time to gracefully appreciate their effort instead of giving them the stink eye and promising to crush them next year.
But if you want to win with any and all office parties this year, Catering by Michaels will make sure you dominate in the food category. With our diverse menu and knowledgeable staff ready to guide you, all you have to do is show up. View our menus and place your order today while there's still time!