As Passover approaches, you may be planning to host a Seder. It's a great way to share the Jewish tradition with family and friends, both old and new.
The Seder is a religious feast observed during the first two days of Passover. The name means "order", which is appropriate because the meal consists of particular rituals that pay homage to the history of Judaism.
During the Seder, each ritual corresponds to various aspects of the story of the Israelite's liberation from slavery in ancient Egypt. This story is read aloud from the Haggadah.
The Haggadah, which is Hebrew for "telling", is the religious text that guides the Seder. It explains the meaning of each food on the Seder plate, recounts the story of the exodus, and contains prayers, songs, questions, and vignettes about Passover.
If you're hosting a Seder this year, it's important to ensure your Seder is welcoming and hospitable.
Here are a few tips for being a great host:
Innovate with food
Many people have time-honored meal traditions that they practice every year during Passover. However, it's also a good time to experiment.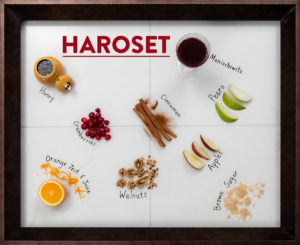 Be sure to ask your guests about their favorite foods. You can prepare these dishes for them, suggest that they bring them to the Seder, or have them catered. Be accommodating and ready to taste new dishes yourself.
Don't forget to ask about any allergies and dietary restrictions ahead of time so that everyone can enjoy the meal day-of.
Accommodate newcomers
Some of your guests may be in the process of becoming Jewish or come from different backgrounds altogether.
First-timers who have never been to a Seder before may be nervous. Help them relax by welcoming them exactly as they are.
Let them know ahead of time that, unless they are interested, it isn't necessary to speak Hebrew or know the basic facts about Passover. Their presence is enough, wanted, and appreciated. You can walk them through various rituals and traditions once they arrive!
Make new guests feel comfortable by introducing them to each other and creating an environment that encourages interaction.
Have inclusive activities
Passover offers an opportunity to practice inclusivity and show the value of diversity and equity.
Take a moment to explain what each item on the Seder plate symbolizes and encourage other people to share their perspectives. Everybody has something to share and everyone gets a chance to learn something new.
Let guests know that it's ok to sit out any activities if they'd rather just take it all in as an observer.
Enjoy the day
Passover is the most widely celebrated Jewish holiday. But, did you know it's also the most likely to cause complaint?
It's always about the food. They groan about dietary restrictions, all the preparations, and how they over-ate last year.
If you feel like groaning yourself, try leaving the food preparation to us this year. Simply select your own Passover menu from our extensive list of items and we'll take care of the rest. If you overeat, that's not on us — but feel free to share that complaint with the rest of your Seder table!