Holy Pumpkins Batman, it's that time of year again, Halloween! The stunning red and orange foliage, apple picking, and chilly weather that require increasingly more cups of your seasonal favorite pumpkin spice lattes, all signal that fall is officially here and so is a favorite holiday for so many.
If Halloween is your favorite holiday, it's probably safe to assume that you'll be playing host to your favorite ghosts and ghouls on October 31, or the weekend proceeding it.
If so, here a few Halloween food and drink ideas:
Themed Food Options
Although several Halloween party tables will include dishes made with pumpkin or candied apples, the most fun and creative Halloween dishes adhere to a creepy crawly theme, decorated in the spirit of the holiday.
Think treats designed like mummies, snakes, spiders, eyeballs, monsters, pumpkins or even just a theme of orange and black.
Spooktacular Witches' Brew Cocktails
We all know the best Halloween party options are festive, stiff, and just a bit creepy.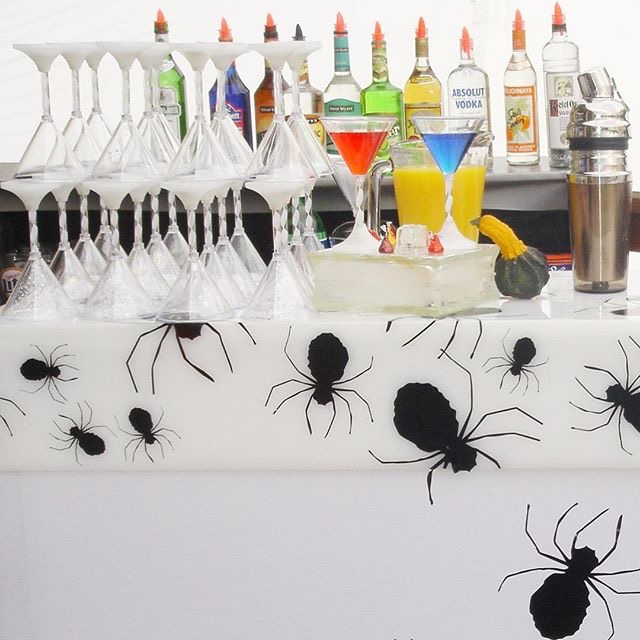 Regardless of what specific taste you're after, you'll want to make sure to have the right props on hand to create some boooos-y potions. Head over to your favorite party store and pick up:
A novelty cauldron (unless you have a real one!)

A bowl that will fit inside (to hold the witches' brew)

A ladle for serving

A creepy prop like a severed hand or fake eyeballs
Once you've got the right decorations, let's not forget the dry ice. Dry ice gives any cocktail that spooky, smoky effect. It's our go-to for any Halloween party!
Things to Do in Chicago for Halloween
Too burnt out from the stresses of daily life to host a Halloween gathering this year? Here are a few alternative options for celebrating in Chicago:
Bring the kids to Navy Pier

for trick or treating and a costume contest, in addition to several "Fright Flicks" movie screening events.

Check out the

Northalsted Halloween Parade

, which has been recognized by Fodor's Travel Guide as one of the 10 best Halloween celebrations in the United States.

Get a little culture at the National Museum of Mexican Art's

Day of the Dead exhibit

, culminating in a

festival on October 29

.
However, if you are planning a Halloween party then be sure to contact us. Our event coordinators would love to help give your Halloween party that spooky edge!