Catering by Michaels is a company with powerful beliefs. We believe in providing the best possible experience and food for our clients. We believe in innovation and creativity. We believe in fostering a culture of ingenuity, pride, and connection.
And at our core, we believe in our commitment to sustainability. We compost, recycle, and donate food. We work with eco-friendly vendors. We make environmentally conscious decisions. This commitment earned us a prestigious Four Star rating from the Green Restaurant Association, singling us out as the best in the country.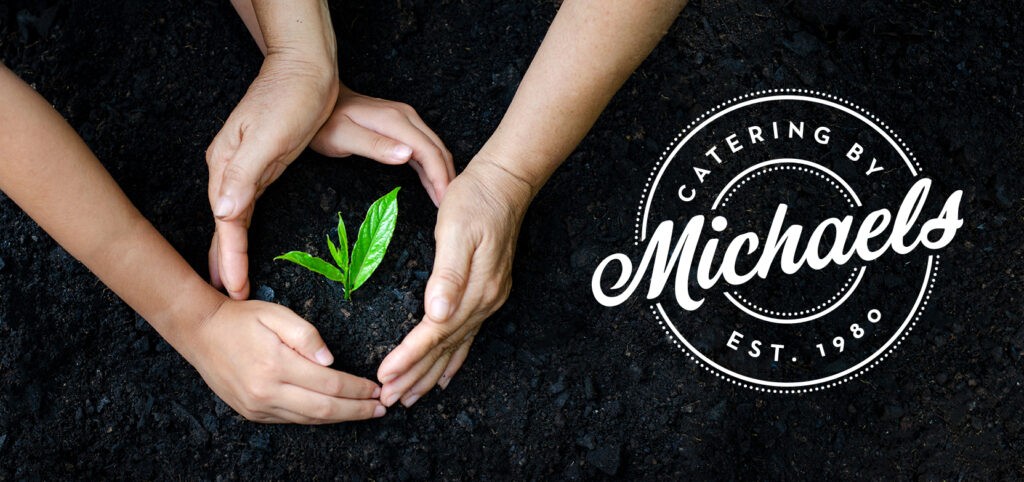 Why Do We Care About Sustainability?
Because let's face it, it's the right thing to do—not just for us, but also for our clients, our future, and humanity.
Our industry is one of excess and waste, and we feel a great responsibility to impact change and do our part to forge a greener future. Since the environment directly impacts the quality of the ingredients, we have available to us, it's evident that the more we take care of the earth, the more it will take care of us.
Our peers recognized us with the NICE Award for Best Responsible Event (Lollapalooza) in 2013 and 2014 for our commitment to environmental practices. We are a founding member of the Illinois Food Scrap Coalition, members of the Green Chicago Restaurant Coalition, and work closely with Rescuing Leftover Cuisine, Inc. to send leftover/surplus food to food banks rather than landfills.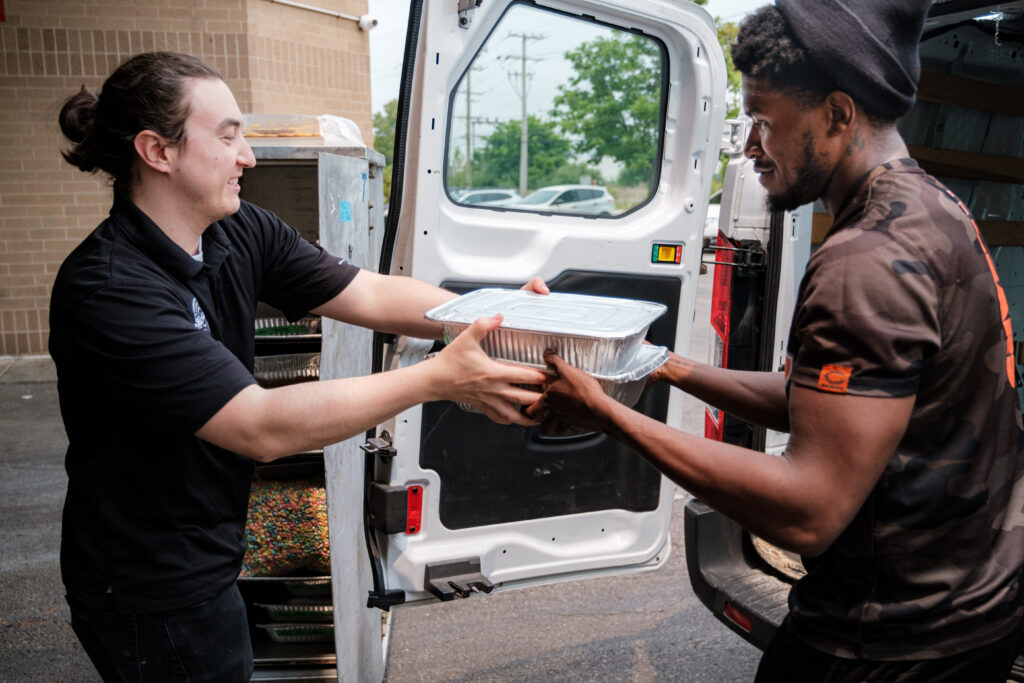 Sustainability is More Than Just Words
Many companies these days talk about sustainability, but only a select few take measurable action. We encourage you to look behind the buzzwords and discover the tangible ways a caterer or restaurant enacts their commitment to sustainability.
Highest Level Green Restaurant Association Certification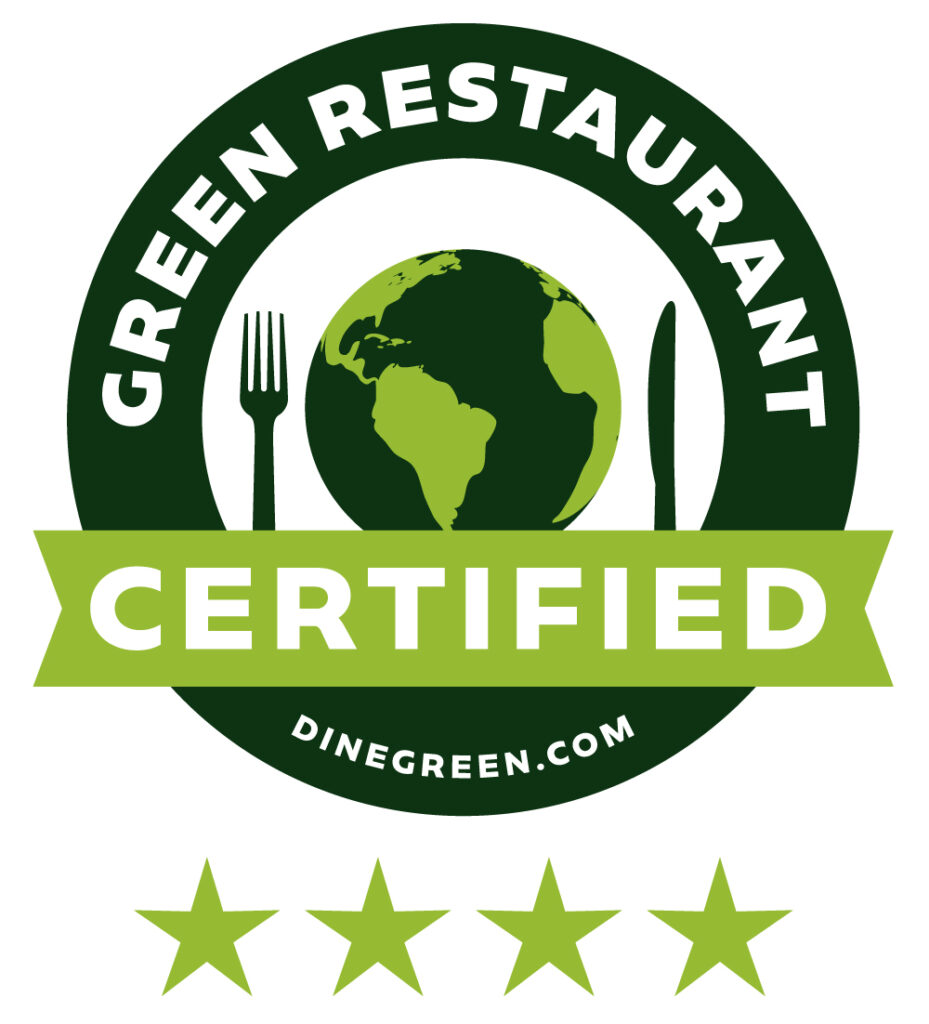 As of July 5, 2023, our continuing efforts garnered us a coveted fourth star from the Green Restaurant Association—the highest level of certification they bestow. We are proud to be one of only two caterers in the country to achieve this extraordinary level of sustainability. The only other, our local friends at Big Delicious Planet, incidentally join us as the only other certified, woman-owned caterer in the area!
The Green Restaurant Association is a non-profit organization that has been greening the restaurant industry since 1990. They work with restaurants, caterers, manufacturers, and distributors to help us all reduce our environmental footprint and become more sustainable. The GRA's certification program recognizes efforts to meet their rigorous standards in eight environmental categories: energy, water, waste, reusables & disposables, chemicals & pollution, food, building & furnishing, and education & transparency. The GRA also provides education, consulting, and marketing support to help restaurants and caterers achieve their sustainability goals.
How the Stars are Awarded
To become a certified green restaurant/caterer, a company must earn enough points across all eight environmental categories. The points are based on various actions that the restaurant/caterer can take to improve its environmental performance, such as installing low-flow faucets, composting food waste, sourcing organic ingredients, using renewable energy sources, switching to biodegradable disposables, using green cleaning products, as well as other measurable efforts.
The number of stars a restaurant/caterer receives depends on the total number of points earned across all categories. There are four certification levels shown below:
One Star Certified Green Restaurant®: 80-99 points
Two Star Certified Green Restaurant®: 100-174 points
Three Star Certified Green Restaurant®: 175-299 points
Four Star Certified Green Restaurant®: 300+ points
The certification is valid for one year and must be renewed annually. The restaurant must also show continuous improvement by earning at least 10 additional points each year.
Our Involvement in the Certification Process
Every year, we undergo a rigorous process to accumulate enough points to achieve our 4 starts. As part of this annual recertification process, we:
document our extensive composting, recycling, and food donation efforts
submit food invoices
submit chemical invoices/reports
submit kitchen equipment and building specifications (to determine the environmental friendliness of our facilities)
document the type of lighting and motion sensors we use
document our educational efforts
continue to make sustainable choices
Benefits of Choosing a Starred Restaurant/Caterer
Why should you choose a starred caterer, particularly four start organization like Catering by Michaels? Because you and the planet will benefit!
You can have a delicious meal that is also good for your health and well-being. You can reduce harmful chemicals and pesticides in your food, as well as support local and or- organic farmers who use sustainable practices.
You can reduce your environmental impact and carbon footprint. By choosing a starred restaurant/caterer, you can help conserve water and energy, reduce waste and pollution, and protect natural resources and biodiversity.
You can support a responsible and ethical business. By choosing a starred restaurant/ caterer, you can show your appreciation for the effort to make a positive difference in the environment and society.

Sustainability Now…and For the Future
We are excited about living up to our four-star certification. The GRA's stars are more than just symbols of quality and excellence. They are indicators of sustainability and responsibility. By choosing a starred restaurant/caterer, you can enjoy a satisfying meal that is also good for the planet. By being a starred caterer, we can give you exemplary service now…and into the future!
To learn more about the Green Restaurant Association and their certification program, visit their website, dinegreen.com.