As a catering company, why do we care about sustainability? Because, let's face it, it's the right thing to do — not just for us, but also for our clients…and humanity as a whole. Our industry is one of excess and waste, and we feel a great responsibility to impact change and do our part to forge a greener future. Since the environment directly impacts the quality of the ingredients available to us, we believe the more we take care of the earth, the more it will take care of us.
One of the most direct ways we can help care for the earth is to give back, literally. Our composting initiatives have yielded extraordinary—and quantifiable—results.
Farms, Not Landfills
Catering by Michaels has long been committed to sustainability, long before it was the trendy thing to do. For us, Earth Day is every day! It takes conscious effort to reduce our carbon footprint. As a caterer, composting is one of the best ways to combat food waste. We believe in sending food to farms, not landfills. Food makes up the largest fraction of landfill in the US. Last year alone, we composted over 85 tons of scraps to give back to the earth!
But how did we get there? Here's a breakdown of just how impactful the simple act of composting can be.
Composting by the Numbers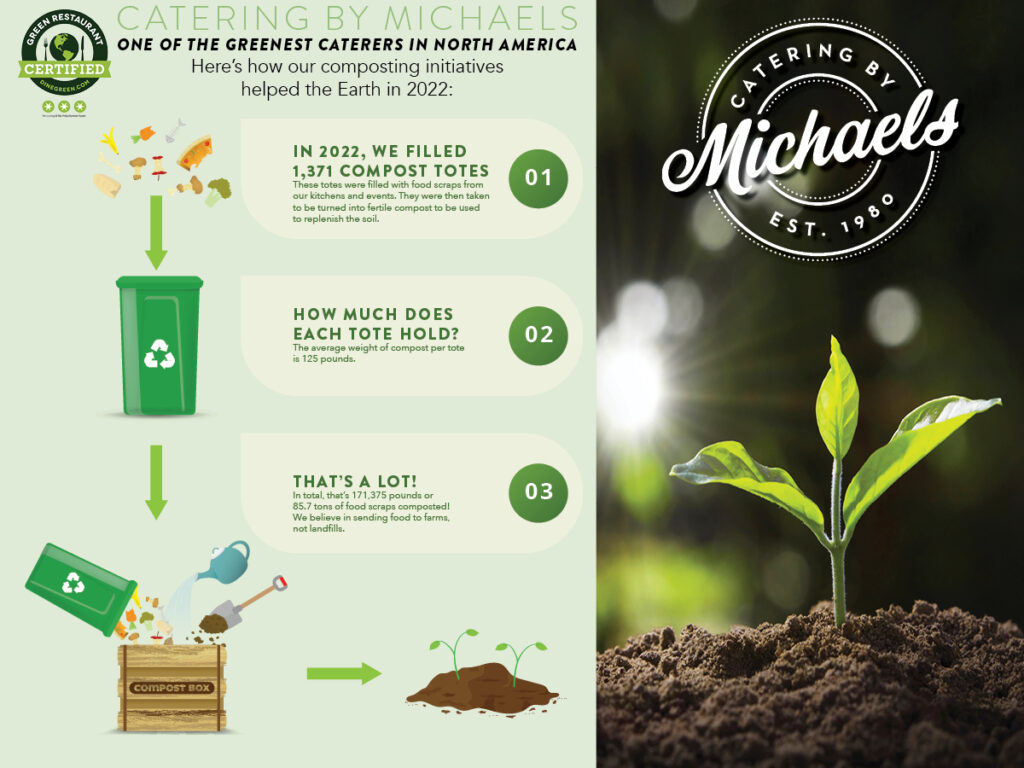 In 2022 alone, we filled 1371 totes with food scraps from our kitchens and events. Instead of throwing these scraps away, we separate them from other recyclable materials and trash. We send these totes to our composting partner, Collective Resource. The scraps go to a special facility where they are mixed with other compostable materials such as grass clippings, leaves, Christmas trees, and food-soiled cardboard to be turned into nutrient-rich compost. This mix is given the exact conditions it needs to decompose.
Each one of those 1371 composting totes holds an average of 125 pounds, or a total of 171,375 pounds of compostable materials. That's 85.7 tons of scraps being returned directly to the earth to help enrich the soil.
We are proud of what we accomplish each year to help make the world greener and more sustainable!
More Than Just Composting
In addition to composting, we have many other sustainability efforts. In the office, we participate in Single Stream Recycling programs. We have moved to a more digital-forward document environment, and when paper is still necessary we practice double-sided printing whenever possible.
Furthermore, we offer our clients the choice of returnable packaging along with a wide selection of eco-friendly, biodegradable products including tree-free napkins, wooden stirrers, paper cups, compostable paper plates, and cutlery made of pre-consumer recycled materials.
All of our used cooking grease is recycled into bio fuel and we only use eco-friendly cleaning supplies.
And we are proud to be a Styrofoam free environment.
The Right Thing To Do
We have been dedicated to sustainability since before it was the "cool" thing to do. We feel it's a way for us to be a better partner with our clients and with the earth. We are proud to continue to be one of the most sustainable catering companies in the united states. Catering by Micheals meets Green Restaurant® certification standards based on purchase of sustainably-sourced food, waste minimization, use of verified environmentally-preferable products, and conservation of energy and water.