Halloween treats are a way of celebrating the holiday and having fun with costumes, candy, and creativity. At Catering by Michaels, we believe a good Halloween treat is fun, tasty, and in the spirit of the holiday. Treats in Halloween-themed shapes or packaging, such as ghosts, bats, or pumpkins, can add to the festive spirit. And seasonal favorites such as taffy apples can help make your Halloween fun!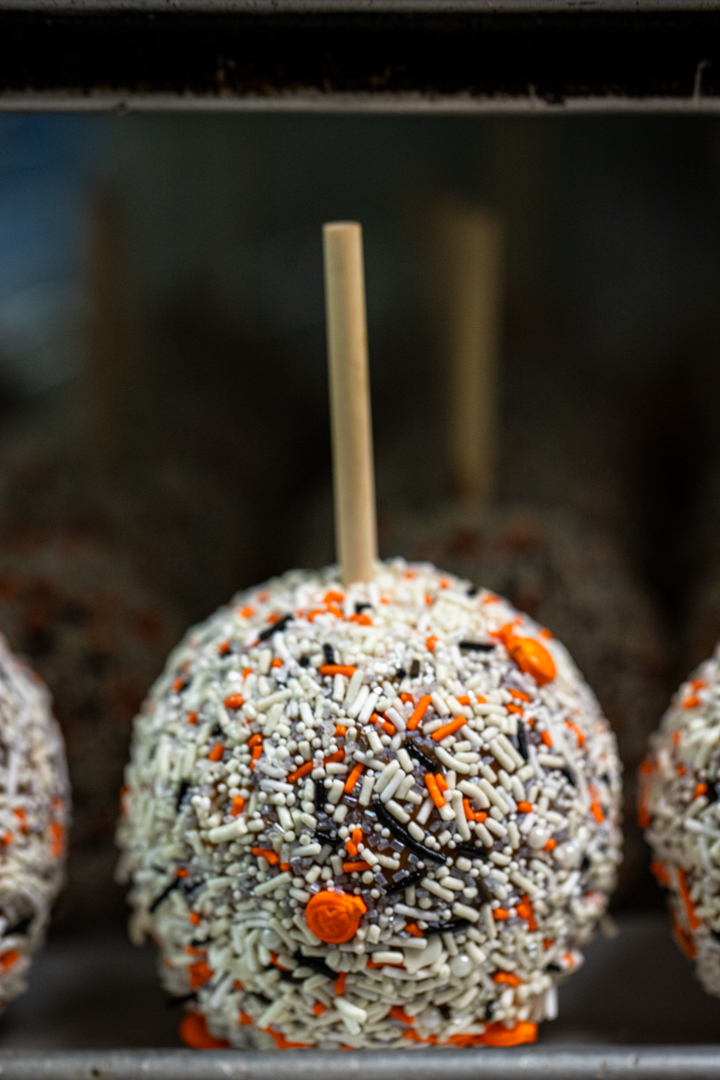 Halloween Treats History
The history of Halloween treats is linked to the history of trick-or-treating, which has its roots in ancient Celtic and Christian traditions. According to some sources, the ancient Celts celebrated a festival called Samhain on October 31, which marked the end of the harvest season and the beginning of the coming dark winter. On that night, the spirits of the dead and other supernatural beings could cross over into the world of the living. People would leave food and drink outside their doors to appease these spirits as offerings in exchange for prayers and blessings.
Ancient Times
Later, the Christian church adopted November 1 as All Saints' Day, a time to honor all the saints and martyrs. The night before was called All Hallows' Eve, eventually morphing into the more familiar "Halloween." Many of the pagan customs of Samhain were incorporated into the Christian celebration, including dressing up in costumes and going from house to house, asking for food or money. This practice was called souling or guising, and it was done by poor people, especially children, who would sing songs or recite prayers for the souls of the dead in return for cakes, ale, or coins.
In the 16th century, the tradition of mumming emerged in Britain and Ireland, which involved wearing masks and performing plays or skits in exchange for food or drink. Some of these plays featured a character called Mischief Night, who would cause trouble and play pranks on people. This may have inspired some of the mischief and vandalism associated with Halloween in later times.
Modern Era
After World War II, trick-or-treating became more widespread and commercialized as candy manufacturers saw an opportunity to market their products for Halloween. They also promoted the idea of giving out individually wrapped candies instead of homemade treats. Today, trick-or-treating is a significant part of Halloween culture in many countries, and children can expect to receive various treats, such as chocolate bars, lollipops, gummy bears, popcorn balls, candy corn, and more.
Catering by Michaels: We Love Halloween Treats!
At Catering by Michaels, we stay closer to the original spirit of the season by offering a dedicated menu of our most popular taffy apples and Halloween treats, all made in-house by our pastry chefs. No pre-wrapped, "fun-sized," or mass-produced items here!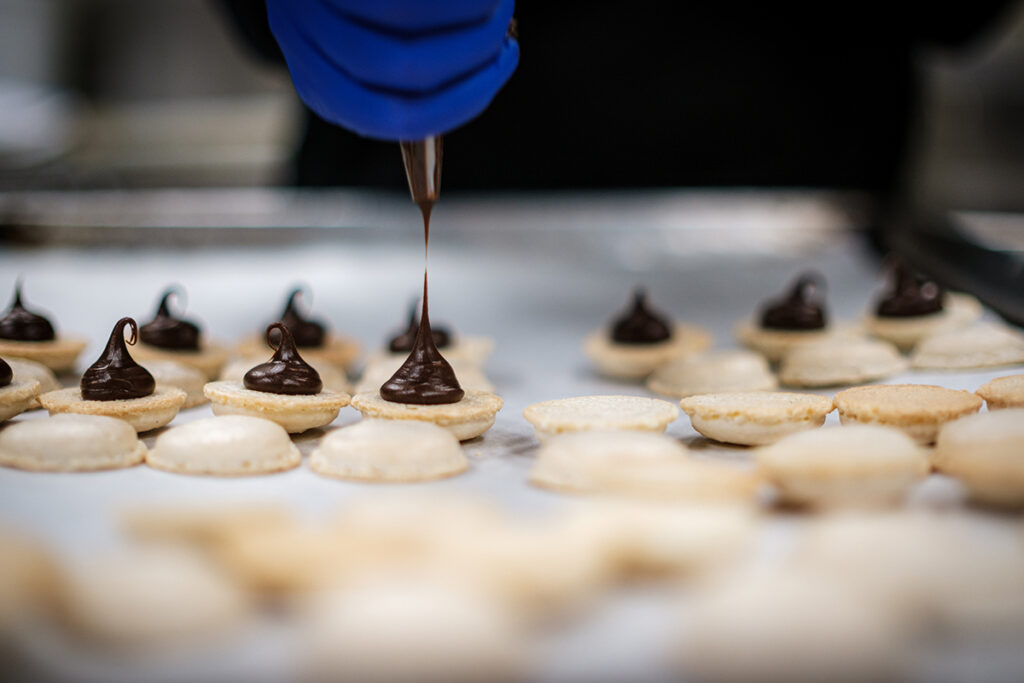 So what have we made for you?
Our gourmet taffy apples are perennial favorites!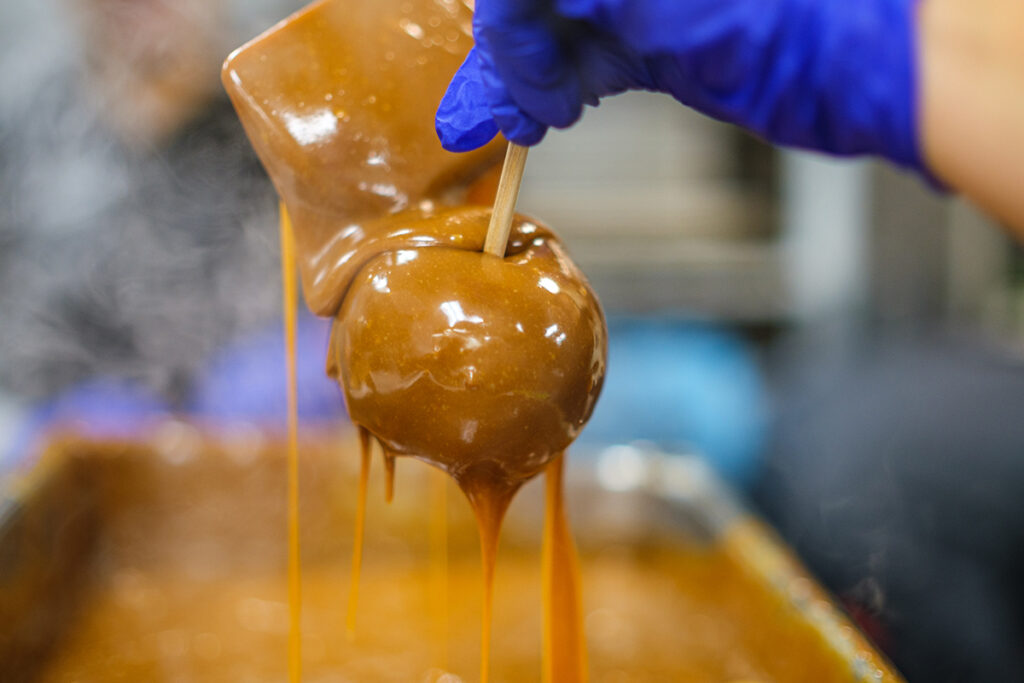 These jumbo apples are enrobed in caramel by hand and then topped with myriad treats such as:
Orange and Black Sprinkle Mix
Peanuts and Orange Sprinkles
Peanuts
Chocolate Toffee
Seasonal M&M's®
White Chocolate and Cinnamon Sugar
Peanuts and Orange Drizzle
Chocolate Toffee and Orange Drizzle
Orange and Black Tuxedo
And Classic Plain!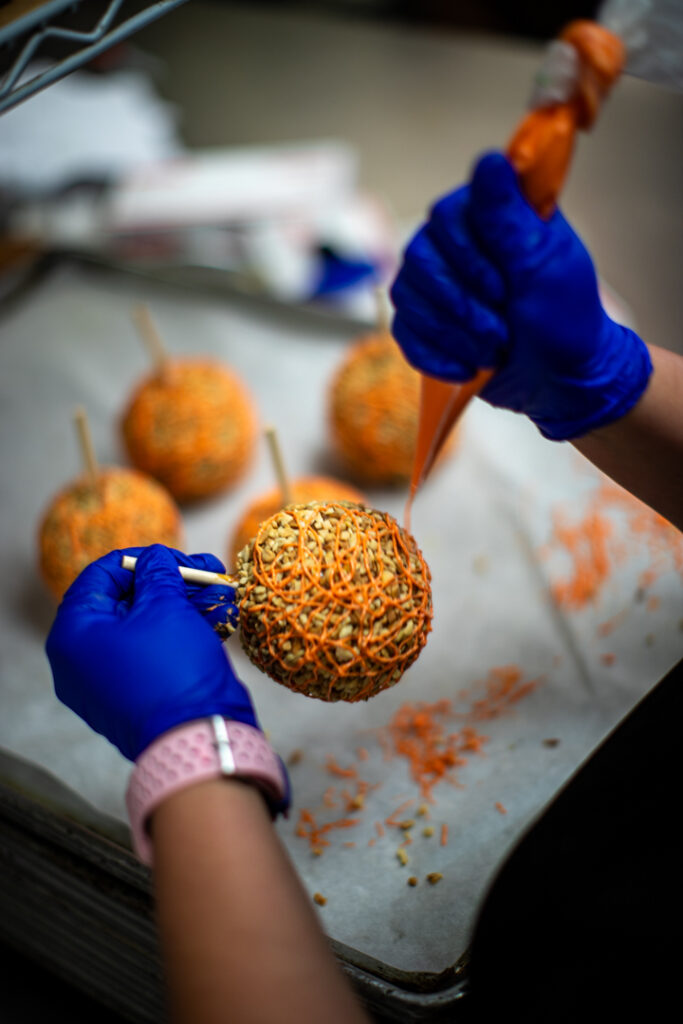 But taffy apples are just the start. Our pastry chefs have crafted a selection of seasonal-themed treats to put a smile on your face. House-made and decorated, these Halloween favorites are the perfect choice to show your autumnal spirit.
Chocolate Dipped Oreo® Spider
Chocolate Dipped Oreo® Bat
Chocolate Dipped Oreo® Mummy
Chocolate Dipped Marshmallow
Frankenstein on a Stick
Homemade Ho Ho Frankenstein
Dripping Ghost Yellow Cake Pops
Eyeball Chocolate Cake Pops on a Disposable Silver Fork
Chocolate Covered Rice Krispies® Treat Mummy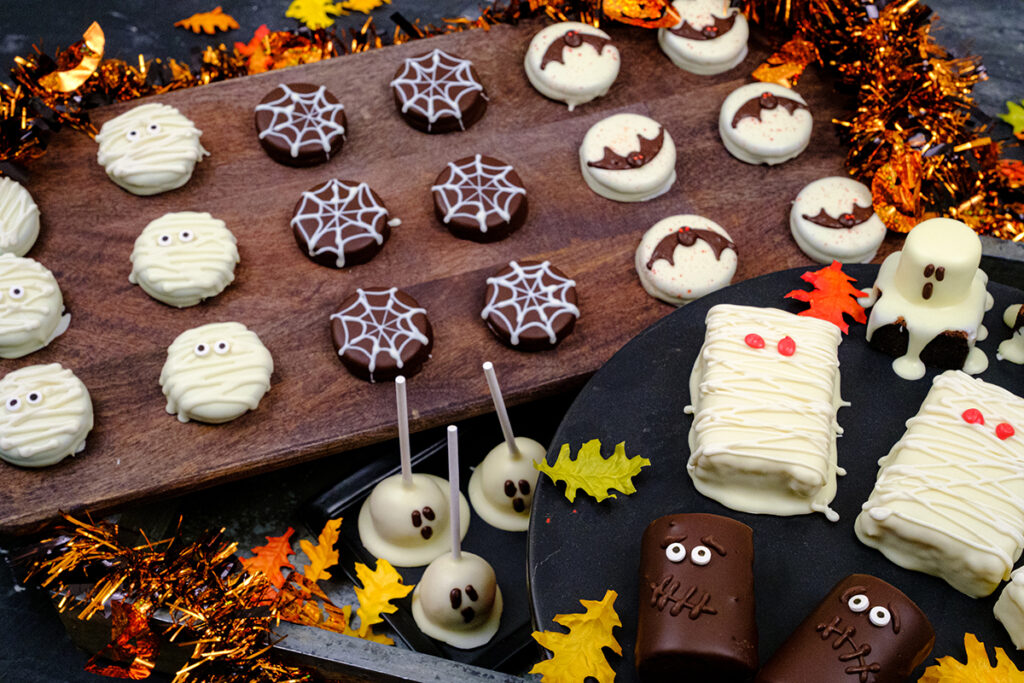 How to Order
Ultimately, a good Halloween treat makes you smile, whether giving or receiving it!
These menu items are available throughout the month of October. To order, call (847) 966-6555 or visit cateringbymichaels.com/contact. Of course, we have an entire holiday season's worth of menus and food choices. You can see all our delivery offerings by visiting cateringbymichaels.com/delivery-menus/.