There are essentially two pizzas in America: New York and Chicago deep dish. Though the pizza war will continue to rage as long as these two great cities remain, there's never a doubt who's king of the deep dish in the Windy City — Lou Malnati's Pizzeria.
According to the Food Network, the buttery, crisp dough and rich tomato sauce are what gave Lou's son Marc Malnati the edge over Bobby Flay on Throwdown in a deep-dish pizza competition. This fact alone, not to mention that family-owned and run pizzeria is the oldest name in Chicago pan pizza, justifies them selling more than a million deep-dish pies a year. The pizzeria has also been featured on The Steve Harvey Show, Food Wars, and Pizza Wars.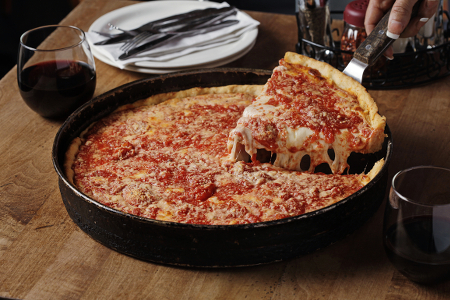 This is, in fact, the pizzeria that defended Chicago against the verbose and misguided attacks of renowned New Yorker and comedian Jon Stewart on The Daily Show. Unfortunately, Stewart appears incapable of understanding the magnificence of good deep-dish pizza.
On March 17th, 1971, Lou Malnati and his wife Jean, opened their first namesake Italian pizzeria in a Jewish neighborhood in Lincolnwood, IL. The opening party was crashed when a car came flying into the dining room during the Irish holiday. Of course, when you're producing pies as good as the Malnati's, a little car crash isn't going to stop business from booming.

If this is your first time visiting Lou Malnati's Pizzeria and you're not vegetarian, jump in with the most famous pizza on the menu: the sausage deep dish. The buttery pizza crust, unique sausage blend, vine-ripe tomatoes, and Wisconsin cheese is a cure for any hungry man, woman, or child. If you don't want meat, check out the the veggie, spinach, or Lou deep-dish pizza.
What you might not expect from a pizzeria that was built on the thick foundation of deep-dish is that their thin-crust pizza is also excellent. Of course, if it's your first time trying Lou Malnati's pizza, you've got to jump into the deep end—but if it's not, and you're feeling yourself swinging Jon Stewart's way, go with the thin-crust.
Some come to the Windy City thinking that deep-dish pizza is mostly a tourist thing, which given the number of obnoxious t-shirts about it, is a justifiable assumption. However, it's not tourists keeping the ovens hot at Lou Malnati's Pizzeria in Lawndale and on West Randolph Street or in Buffalo Grove – that's almost entirely locals, because good pizza is simply good pizza. 
With 49 locations in the Chicago area, you're never that far from the best slice of deep-dish pizza in the world (because if it's the best in Chicago, it's the best in the world). So, pre-order to beat the lines and slip down to a Lou Malnati's Pizzeria to grab a slice or an entire pie. We vote for the pie!
(Photo Credits: Lou Malnati's Pizzeria)