It's hard to think of celebrating when the COVID-19 pandemic has negatively affected so many.  But it's important to continue to find joy in our lives — you only live once.
One excellent way to do that is by showing the people we love that we appreciate them.
Father's Day is designated to show our gratitude for Dad — our first hero. Like other celebrations upended by COVID-19, Father's Day 2020 will be different this year.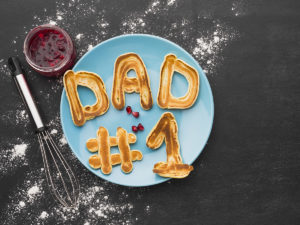 The good news is that it doesn't take much to keep dads happy. Showing your love is as simple as a tasty, surprise meal and some quality time.
Here are a few ideas for celebrating Father's Day in the time of COVID-19.
Play Outside
Start your Father's Day with a little exercise. Celebrated on the third Sunday in June, the weather will surely be ideal for outdoor physical activities. There is a good chance social distancing measures will still be in place, so choose activities that keep you away from crowds: like hiking, jogging, or bike riding.
You'll put family members into a great mood thanks to endorphin generating exercise mixed with a healthy dose of sunshine.
Hit the Golf Course
Speaking of the outdoors, what's more iconic Dad than golfing?
Perhaps surprisingly considering other closures, the vast majority of states have allowed golf courses to remain open throughout the pandemic (including Illinois). Thanks to wide swathes of green, it should be pretty easy to practice social distancing while hanging out with Dad.
If golfing is not your game, you might still offer to caddy for Dad. After all, celebrating Father's Day is more about spending time together than any specific activities. And whether you're hustling across the course or bonding over another physical activity, you'll be working up an appetite for later in the day.
Make His Favorite Meal
Copious amounts of state-mandated indoor time have encouraged many people to unlock new skill sets, including cooking. Surprise Dad with your new culinary prowess.
Increase the quality time by cooking together. Let Dad be the grill master while you prepare the sides for a barbeque picnic with your immediate family.
If you haven't quite perfected your cooking skills, order from a local business like Catering by Michaels, instead. Make your life easy with our pre-set Father's Day menu, or get in contact to build a customized meal.
Pamper Him
Mom's aren't the only ones who enjoy a spa day. Our dads work hard, and they deserve some pampering too!
If spas are open, book a relaxing massage to cap off your fun, yet tiring Father's Day itinerary.
But, if they're still closed, or you have a limited budget, create a home spa instead.
Foster a calming vibe with scented candles and soothing music. Set up a hot foot bath for him, with salts and scented oils. You can even make Dad a calming homemade face mask (don't forget the cucumber slices!).
It's an unconventional gift, but unlikely to be the kind of thing he would do for himself. Giving him the opportunity to indulge is an excellent way to show that you care.
Final Thoughts: How to Spend Father's Day 2020
Father's Day doesn't have to be a big production; most dads are content with a good meal and quality time with their kids. But a simple celebration can be elevated with some personalized activities and fantastic food.
Show your dad how much you appreciate him with a day of fun plans, paired with a delicious feast from Catering by Michaels.