Have you met David ("Dave") Sandler? He insists that he's a boring guy, but interviewing him led to a lot of interesting industry insights, not to mention some great suggestions regarding proper storage of cheese and how to use different types in the perfect homemade macaroni and cheese dish.
Dave Sandler is the Executive Vice President of Catering by Michaels, and has been involved with the company from a very young age. It's pretty safe to say that working here is something that will never change!
What did you do before working at Catering by Michaels?
Honestly, I've worked here more or less my whole life, originally starting when I was 12. I've done other things, like when I went away to college (where I ran a local restaurant and bar program), but all of my jobs have been in this field. For the most part, Catering by Michaels has been my career.
What does an Executive Vice President do?
I run the day-to-day aspects of the business. My primary focus is coordinating with sales people and catering drivers, picking menus, kitchen operations, determining what needs to go to every event (both food and non food items), and I also work on the planning of new concepts.
It's kind of whatever is thrown at me every day – but that's the fun of the business! There's definitely a full workload every day, but it's a great experience. It's really all about doing what it takes to get the job done.
What's the best part of your job?
My favorite part of working at Catering by Michaels is planning the events. But actually seeing the events get executed and going perfectly, and getting positive feedback from happy customers makes it all worth it.
What's the hardest part of your job?
The hardest part of working in this industry is the hours and the demands of the business. You miss a lot of family stuff, holidays, and other involvements because you have to work on weekend and at odd hours.
Favorite thing to do in Chicago?
Dining out, of course! But picking a favorite restaurant is beyond me – there are simply too many great options to choose from.
How does sustainability fit into your daily life (outside of Catering By Michaels)?
I act with sustainability in mind whenever possible. At home, we have systems in place to use water responsibly, use only LED lighting, and I'm constantly yelling at my son to turn off the lights behind him.
What led to your winning the lifetime achievement award at the 2016 NICE awards?
It was a complete surprise to me! I think Jeff and Lauren submitted my name for it. They snuck my wife, mom, and son in to surprise me. It was a really cool experience and I'm humbled to be recognized for that by peers of ours.
How do you come up with our creative action stations?
The action stations come together in a variety of ways. It starts with collaborating with my team (someone may have an idea for the food itself), and we pick it apart. It may have been developed first as a plated entree, then we take it and determine how else it could be used. Regardless of their genesis, we then come up with unique display option ideas. We also take ideas from different foodie markets across the United States and incorporate them into our event offerings.
Which action station was your favorite?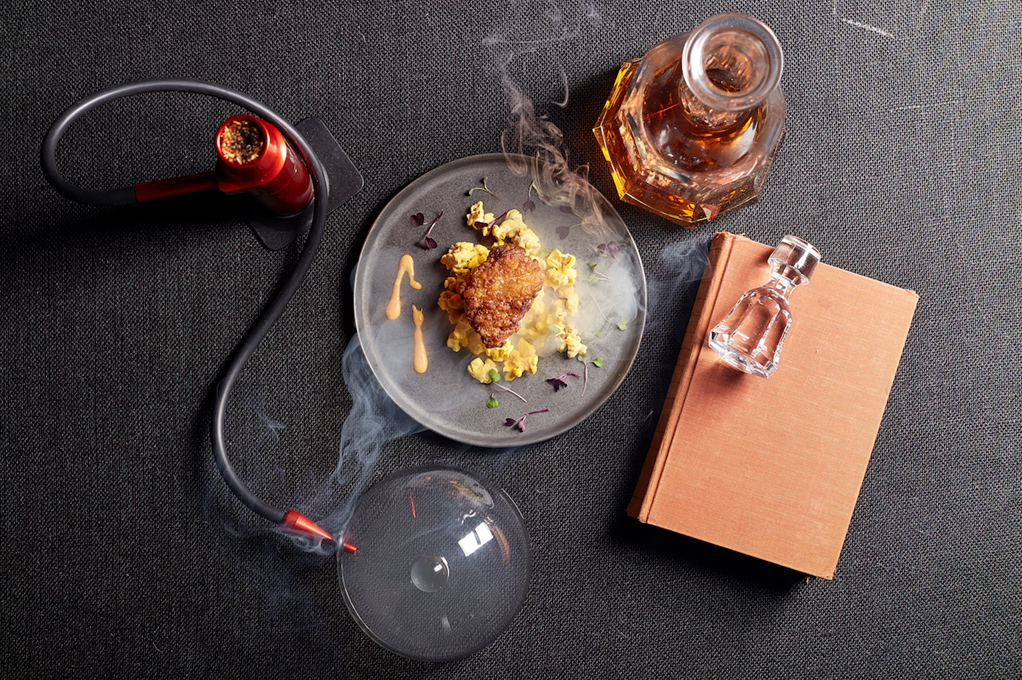 I love the duck fat fried chicken action station. We smoke the chicken right on the buffet with a vaporizer rig. The glass dome makes for great presentation – it smokes right in front of the customer.
Also, one of the most popular action station is the one where attendees can choose from all different kinds of flavored tacos.
What's your favorite type of cuisine?
I love Asian, especially the flavors of the sauces. I love spicy, and they typically have a lot of spice. For me, there's no typical favorite dish – I like to try it all. Korean food is something I've been obsessed with recently.
What are some of your favorite food items we make, and what makes them so great?
We do a lot of great things – but I think we're especially good at sushi. Our sauces are homemade and pair well with the meats we serve. We roast bones to make our own stocks. It's quite a process but it makes a huge and noticeable difference.
Our pastries are also amazing. I can't pick a favorite!
What event have you thrown that you'd most want to be an attendee at?
There are so many! Any of the parties with our action stations would be a great place to be a guest at. It's so much fun – and a lot of great food!
The more action stations you have at an event, the more food you get to experience. Plus, there's really something for everyone if you have attendees with dietary restrictions or picky eaters in general.
In general, any party I don't have to work, I'm happy!
What advice would you give someone looking to get into a similar role or industry?
In general, the industry is quite demanding – you've got to be ready to work hard. You have to love what you're doing to be able to be successful in it. It takes awhile to reap the benefits, so you have to be patient. It's certainly not a glamorous or high paying industry. Until you work your way up in some fashion, it's long hours and you've got to find some joy in what you're doing.
If you're not enjoying it, you're not going to be successful and it's really not for you.
The staff here at Catering by Michaels brings a lot of experience to the table. If you have additional questions for Dave Sandler, leave them in the comments below!