Catering by Michaels comprises a spectacular team of employees who we love to brag about in our blog. We sat down with Isabella Ospina, Sales Concierge, to learn more about her role and life outside of work.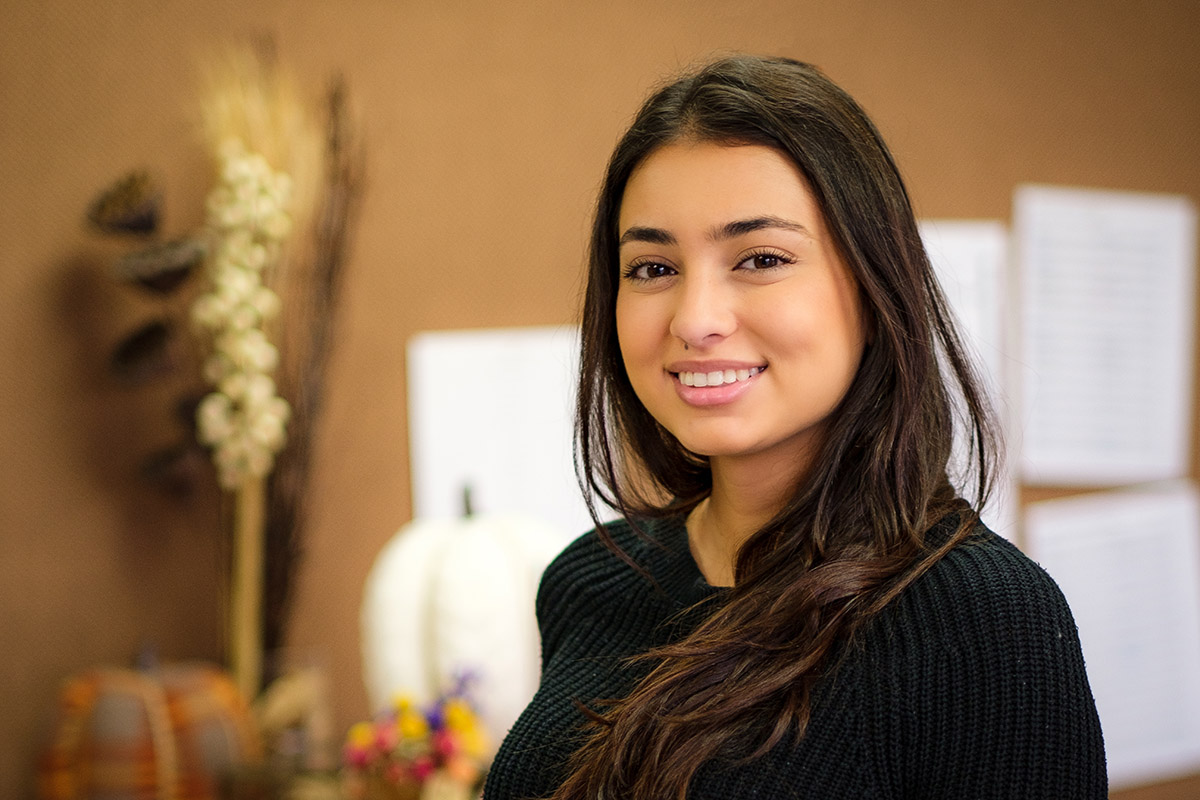 What did you do before working at Catering by Michaels?
Before I worked here, I was a student at UIC studying business management. I was working in various student employment jobs at the university (data analytics was one role).
I was at UIC for two years, then I took a semester off and transferred to Roosevelt University. Towards the end of that semester, I found work at Catering by Michaels.
How did you first get involved with Catering by Michaels?
My mom works for UIC in the department of surgery doing business administration. Her department is responsible for a variety of annual, recurring events: graduations, receptions, holiday parties, and so on.
In 2016, they had a graduation reception I attended. Shannon Sherwood, a Senior Event Coordinator at Catering by Michaels, was in charge of that event and was in attendance.
I was overwhelmed by the beautiful setup and drool-worthy food.
It was flawless.
Ever since I can remember having a passion for anything, I told my mom I was interested in event planning. But it's hard to get a foot in the door. Knowing this, when I went to the event, she introduced me to Shannon. Shannon mentioned that Catering by Michaels is always hiring servers and that it was a good way to get an understanding for the business.
I thought about what she said, then applied to be a server. This was my job at Catering by Michaels until the beginning of June 2019.
I saw Shannon again at one of my mom's events and she mentioned an open position in the office. She knew I was truly interested in the industry, especially after I had switched my college major to Hospitality.
I applied to be the Sales Concierge and got it!
What does your position look like on a daily basis, and in general?
I'm in charge of keeping our inquiry tracker up-to-date, which collates all client inquiries from the phone, our website chat, and website contact form.
I often help our delivery drivers by providing order collateral and instructions for the food they're delivering. In addition, I work closely with our event coordinators. It's my job to help our clients understand the basic details of their event and how we work with them to best plan their event.
I also generate all the menu signs which accompany our food at events. I can create upwards of 15 complete sets of menu signs in a single day!
Outside of these everyday tasks, I work with people and organizations who request donations. I take and process their requests and then I am in charge of providing gift cards.
Basically, wherever the team needs help, I am available! I'm typically the first person our clients talk to, so I strive to make that initial interaction pleasant and professional. I want to leave them with a positive impression of Catering by Michaels.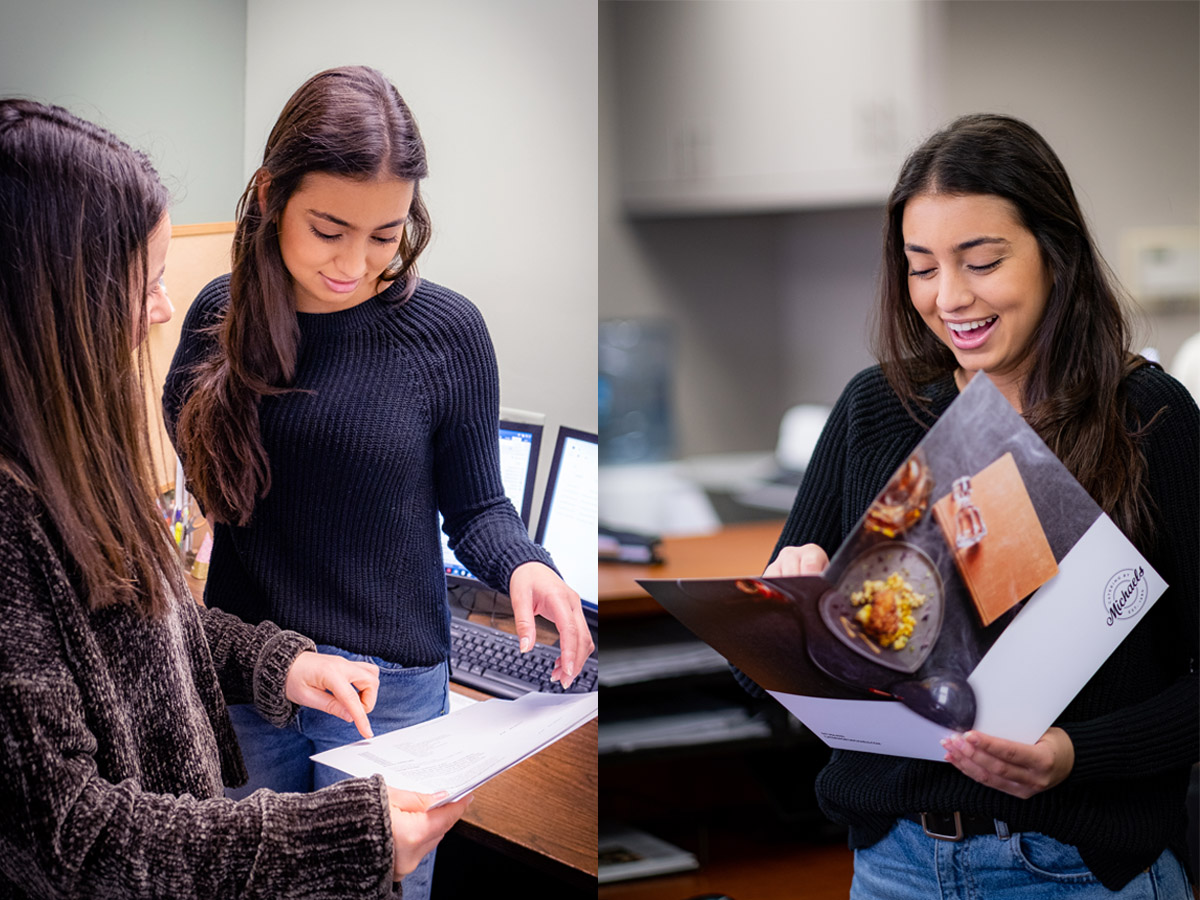 What's the best part of your job?
For me, it's talking to different people, every day. Prior to working at Catering by Michaels, I've had jobs where I regularly talked with customers on the phone — but the volume of calls we receive exceeds any of my previous experiences! When I have free time, I enjoy going through my call log to reflect on everyone I've chatted with over the course of the day.
Even though I'm not directly planning their events, just knowing I am involved in assisting our clients—and hearing their appreciation—is a real boost. I love being able to help people in any way I can!
What's the hardest part of your job?
Finding the time in the day to get everything done! There's always so much to do. I've gotten better in terms of knowing how long various tasks take and setting my schedule accordingly.
What's your favorite thing to do in Chicago?
I love just walking around. When I was at Roosevelt, I almost never took public transportation. This gave me the opportunity to see different parts of the city which I hadn't seen before. Whenever I go to the city, I always let my travel partners know they'll need some good walking shoes!
What are some of your hobbies outside of work?
I love to run recreationally. I used to run cross-country in high school but I am less about the competition nowadays. Chicago is such a beautiful backdrop for this hobby! I also love watching movies and talking about them with friends.
And on that note, what's your favorite show on Netflix right now?
My favorite movie is Casino — it's an older one. My favorite show on Netflix is Scandal. It's been out for a while but I'm just now getting into it.
Do you have any hidden talents?
I'm a great roller skater! When I was younger, I tried to convince my mom to sign up for roller derby but she told me I was too tiny and would get trampled.
What's your favorite vacation you've ever been on?
Last year, I went to Italy. It was my second time going.
My favorite part was Florence. It's not a coastal city, but there's so much to see that it makes up for not being by the beach. I also appreciated that there's a lot of history to immerse yourself in while there.
What's your favorite type of cuisine?
I love pasta — my favorite dish is classic spaghetti and meatballs.
For your birthday, what would you have Catering by Michaels deliver to your home?
We have amazing red velvet churritos. They're so good. I also love our horchata cupcakes.
What event has Catering by Michaels thrown that you'd most want to be an attendee at?
I actually said this in my interview: When I was still a server, my first shift was at the LCA Midwest Retreat. All the leading caterers came together for a night of food and fun.
I didn't realize how big of an event it was! But it was the most spectacular event I've ever seen. I enjoyed seeing people with similar passions together in the same room. It made me feel more invested in the company and more eager to be a part of the industry.
What advice would you give someone interested in a similar role?
Don't overthink things (like I did). I thought it would take me forever to get up to speed. But within 2-3 months, you fill in the gaps quickly. You're capable of more than you think.
What part of your job makes you proud?
Seeing how my work benefits other people. Whether its making menu signs or tasting menus for other team members, I'm always happy to help anywhere I'm needed.
I take pride in every job I've ever had. It's important to go into your job with a positive attitude and knowing your work will benefit someone. You're there for a reason and you can make a difference in any workplace you're in. It's helped me see my work not as work, but as an activity I enjoy doing. My work satisfies peers, coworkers, and clients. I take a lot of pride in that.
Now that you know a little more about one of our wonderful employees, learn more about our fabulous team and get in touch for your future catering needs!