Everything is harder in 2020, especially writing this end of year top ten. Every time I start to think back on the year, I feel like I am getting assaulted with everything we have faced this year. It is like being hit with snowball after snowball – in the face. I am sitting at my actual desk for the first time in months writing this, by myself, with just a small lamp, hot cup of tea, great music on, no distractions – the perfect setting to write a blog. I have been staring at my screen for 30 minutes and now have come back to trying to write this blog for three days. How do you put into words in a one-page blog what this year has been like? How do you explain surviving as a company in a year where you were forced to cease doing the very thing that your business is about? How do you properly recognize the resiliency and amazing teamwork our team has shown this year to survive?
The only answer I can come up with is you don't. There simply are not enough words to convey what running a hospitality business in a pandemic that destroyed your industry has been like. The list of challenges, stresses, losses, and obstacles far outweighs the successes, wins, and joy we normally feel as we approach the end of a year. But in all things, there is always good you can find in the bad, and 2020 is no different. So, this year, we celebrate surviving. We celebrate the resiliency and teamwork our amazing team has shown. We celebrate creativity and the many, many pivots we implemented in our business. We celebrate that despite all the challenges, we get to do what we love and be a part of so many memories. We celebrate our loyal clients that continue to show up for us every day. We celebrate that we are still here, anxiously waiting for the world to allow us to do what we love again, in big ways. And we celebrate that despite this being the most challenging year ever for us personally and professionally, we still have a top ten to celebrate. It might look different than a normal year, but if there ever was a year to celebrate some good things, 2020 is the year. So, in no particular order, here we go…
1 – Awards!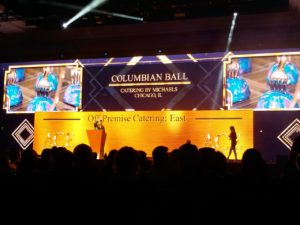 Catering by Michaels won some major awards this year which someday we will celebrate properly as a team (for events we produced in 2019, prior to all this madness)!
International Awards:
CATIE – Catered Arts Through Innovative Excellence – Best Appetizer, Innovative Mixology, Best Action Station
ACE – Achievement in Catering Excellence – Off-Premise Catering East – "Columbian Ball"
Local Chicago Awards:
NICE Awards – Best Plated Presentation, Best Action Station
2 – Creative Cocktails!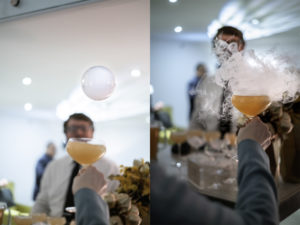 We are constantly developing new and innovative cocktails, but our most favorite might be one we developed in 2020 called "A Citrus Bubble." It goes like this – delicious glass of our Bourbon Winter Citrus Punch + catching a bubble from above filled with delicious citrus + the bubble popping into a cloud of delicious citrus aroma while you take a sip = Cocktail Magic! We were giddy with excitement when all the pieces came together!
3 – Culinary Innovation!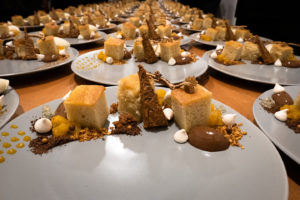 Even in a pandemic, we are working every day to create new and amazing additions to our menu. A few of our new favorites are our Duck Duck Sous Vide Station, Smoking Gun Smoked Salmon Latke Station, Stuffed Zucchini Blossom Station, Crab Rangoon Cones, Steakhouse Bite Skewers, and this stunner of a plated dessert we call Chocolate Bourbon Butter Smash. It is even more delicious than it looks!
4 – Catersource!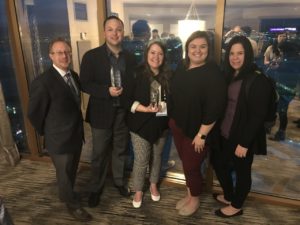 In our last public outing, before the world shut down, literally while we were there, we were blessed to have 5 people attend Catersource in Las Vegas. Three from our leadership team were speakers and two of our Event Coordinators received very well-deserved scholarships to attend. It was the most surreal experience to be among all the best in the catering world while our industry was crumbling all around us.
5 – Safety First!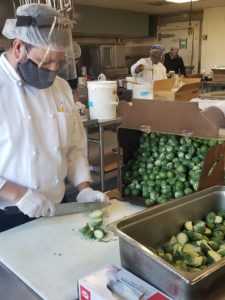 When we were finally able to re-open, we took aggressive measures to keep our team and clients safe from COVID-19.  We developed a full COVID-19 playbook, both internally for all our employees and externally for our clients that covers all the ever-changing guidelines of events during the pandemic. We bought SO much PPE to protect our employees that we still use all day every day, we reorganized our Commissary for physical distancing, built temperature check stations, bought portable handwashing stations, created A/B teams with no crossover, adjusted our menus for safety, and set to work to begin operating safely during a pandemic.
6 – Michaels Market & Meals!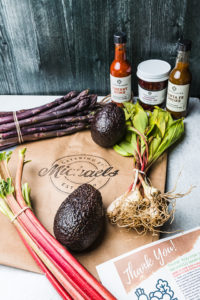 We wanted to open in a meaningful and safe way. In May, we introduced Michaels Market & Meals – a sustainable collaboration with the Green City Market to bring fresh local produce to our client's doors in a time when restaurants and Chicago farmer's markets were still closed. We partnered with many farms of the Green City Market and created an online farm stand and grocery store where our clients could order all the essentials for delivery or curbside pickup. We also set up "farm stands" all around the City. This venture was also the catalyst for us to offer online ordering for all your Catering by Michaels favorites – one of our best pivots from 2020 that will live on.
7 – Virtual Events!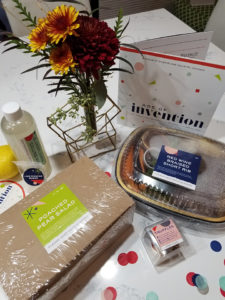 We can't wait to get back to big, live events. But until then, we executed some amazing virtual events this year for 10 to 1,000+ guests. If our clients could dream it, we made it happen – from drive-thru style, individual meals delivered all over Greater Chicago, family meals, cooking demos, mixologist demos, and everything in between. Many delicious meals were enjoyed from our Kitchen while guests attended events from their living rooms.
8 – Micro Events & Weddings!
We have a major crush on micro-events. They may be small, but they are mighty. We were so lucky to be a part of so many memories over the summer in back yards and outdoor spaces to celebrate major milestones with tiny guest counts. They were so dreamy, intimate, and fabulous!
9 – Giving Back!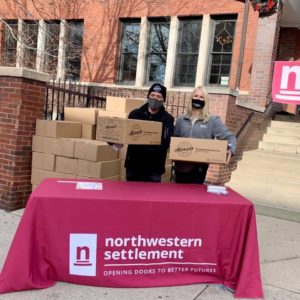 We always do a Thanksgiving donation every year, but due to COVID-19, we were not sure we could swing it this year because our business has been hit hard by the pandemic. With a little help from our friends and several donations, not only did we make it happen – we went bigger! Catering by Michaels matched every donation, and we were able to feed nearly 3,000 people in need the week of Thanksgiving. The biggest labor of love and kindness I have ever been a part of.
10 – Teamwork makes the Dream Work!

This photo is from 2019 (pre-COVID), but the best photo we have that has the biggest chunk of our amazing team in it!
For us, there is no bigger hero this year than our team. They are our personal army of Swiss Army Knives – willing to do whatever it takes to help us survive and to adapt and juggle so many tasks outside their normal jobs. Everyone stepped up. They are the reason we are still here, still smiling and still putting one foot in front of the other to get to the other side of this pandemic. There is no one else we would rather go through this terrible year with or have on our side to weather the storm together. All we can say is THANK YOU! Here's to 2021 and whatever it brings – it can only get better from here. One day at a time – we got this!