There are a million ways to celebrate Father's Day, but the best way is to simply spend time with the person you call "dad" or an important father figure in your life.
When it comes to finding the perfect gift, it's nice to know that dads are easy to please. Give them a hug and a decent meal, and they'll be happy. But take that a step further with a catered feast fit for a king to show him how much he means to you.
For a stress-free celebration this Father's Day, let Catering by Michaels take over the planning, cooking and cleaning, so that you can focus on celebrating! To plan the perfect Father's Day brunch, start with his favorites.
But if you're stumped for ideas, we have a few suggestions:
Building A Father's Day Menu From Catering by Michaels
For Father's Day, we're featuring a special sandwich menu for dad: a robust chipotle chicken sandwich. Featuring grilled chipotle chicken, sweet roasted poblano peppers, pepper jack cheese, romaine lettuce, and chipotle mayonnaise on a miniature salted ciabatta square, this is a favorite of dads in the Catering by Michaels kitchen and offices!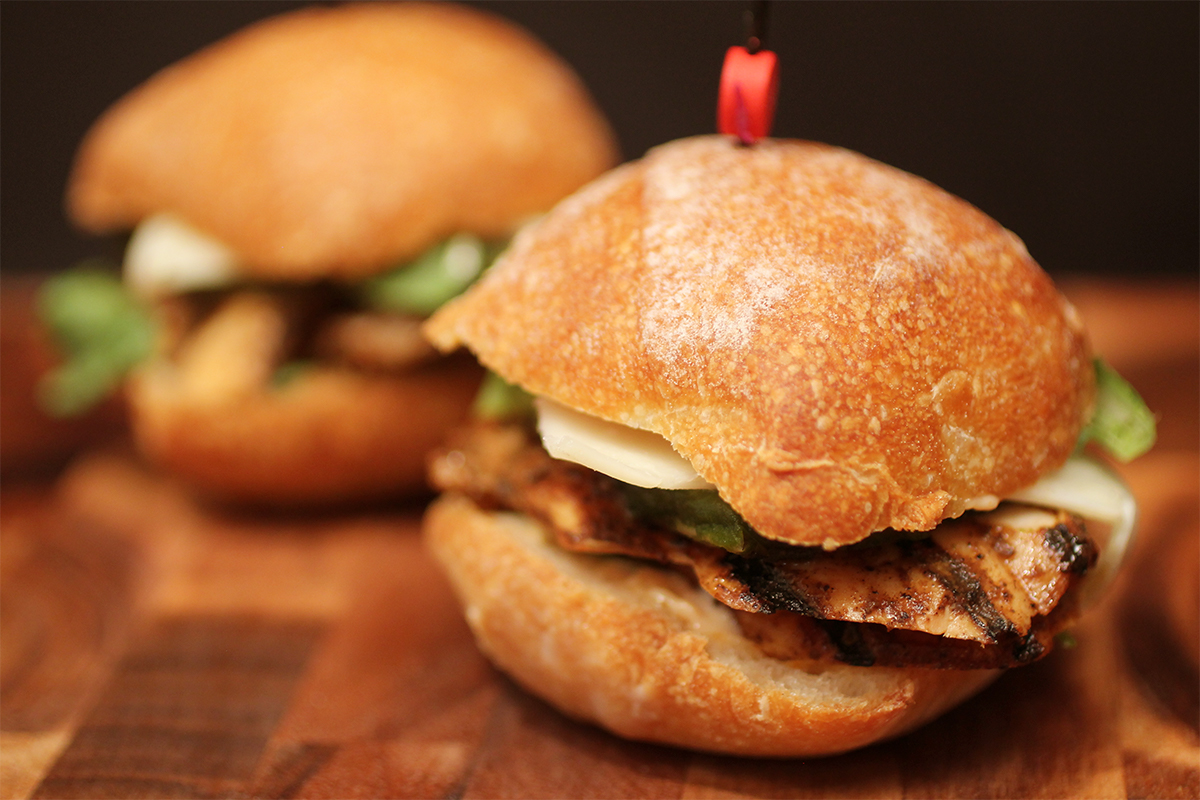 Dad and your guests will also love the classic fried chicken sandwich with honey mustard sauce, lettuce, jalapeño coleslaw, and homemade pickles on pretzel flatbread. Or, try the piri-piri turkey sandwich made with smoked turkey breast, piri-piri sauce, avocado, sunflower seed aillade, tomato, mixed greens, and garlic aioli on a freshly baked herbed ciabatta roll.
Your Father's Day brunch menu may also benefit from a grilled asparagus sandwich as a solid vegetarian option. Aside from the grilled asparagus, there's sun-dried tomato, goat cheese, and lettuce on a miniature salted ciabatta square.
While sandwiches are a great option for dad and guests, sometimes, there's nothing better than a selection of meats to choose from.
A great way to work up an appetite before the main dish is to start off with our summer cheese and charcuterie display. It features thinly sliced cuts of prosciutto, Genoa salami, and salumi Toscano, paired with a selection of Stilton blue cheese, smoked Gouda, and Saint-Andre triple cream, topped off with sugared Marcona almonds, shallot-pancetta jam, fig mostarda, fresh honeycomb, cinnamon raisin crisps, and sliced ficelle baguettes. The platter is one of Catering by Michaels' newest offerings but is guaranteed to be a crowd pleaser.
Finally, the pièce de résistance: a smoked paprika flank steak display. This involves a medium rare char-grilled thinly sliced flank steak, accompanied by strawberry-mango-jalapeño relish, grilled cebollitas, cherry tomatoes, zucchini, and tinkerbell peppers served with freshly baked miniature sesame twists.
Now does that look good or what?
Final Thoughts: Give Dad the Gift of a Delicious Meal This Father's Day
Father's Day (June 16, 2019) is just around the corner, so don't hesitate — give us a call and place your order today. Give dad a hassle-free celebration: contact us and we'll take care of everything for you!