There are essentially two pizzas in America: New York and Chicago deep dish. Though the pizza war will continue to rage as long as these two great cities remain, there's never a doubt who's king of the deep dish in the Windy City — Lou Malnati's Pizzeria.
According to the Food Network, the buttery, crisp dough and rich tomato sauce are what gave Lou's son Marc Malnati the edge over Bobby Flay on Throwdown in a deep-dish pizza competition. This fact alone, not to mention that family-owned and run pizzeria is the oldest name in Chicago pan pizza, justifies them selling more than a million deep-dish pies a year. The pizzeria has also been featured on The Steve Harvey Show, Food Wars, and Pizza Wars.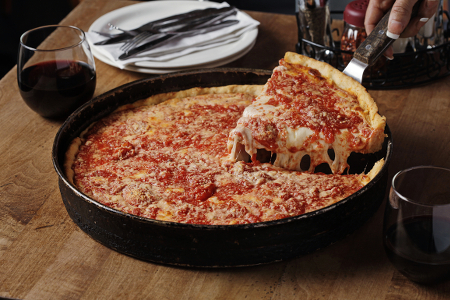 This is, in fact, the pizzeria that defended Chicago against the verbose and misguided attacks of renowned New Yorker and comedian Jon Stewart on The Daily Show. Unfortunately, Stewart appears incapable of understanding the magnificence of good deep-dish pizza.
On March 17th, 1971, Lou Malnati and his wife Jean, opened their first namesake Italian pizzeria in a Jewish neighborhood in Lincolnwood, IL. The opening party was crashed when a car came flying into the dining room during the Irish holiday. Of course, when you're producing pies as good as the Malnati's, a little car crash isn't going to stop business from booming.