Chicago has recently become more and more sought after as a destination for prestigious events that the whole nation watches eagerly. Most recently, Chicago played host to the James Beard Awards. For those who aren't familiar, it's basically the Oscars for restaurateurs. Just days before that, Chicago played host to the NFL Draft. Needless to say, it's been a busy month in the second city!
2016 was actually the second time that both the James Beard Awards and the NFL Draft were in Chicago. We're hoping to see both events in Chicago for the foreseeable future, and it's looking like it may happen (with a definite yes for the James Beard Awards)!
On a more personal note with regards to these exciting happenings, Catering by Michaels was honored to be chosen as the exclusive caterer for this year's NFL Draft Town VIP areas. Obviously, we were excited to have the event in Chicago again and even more excited to be able to take part in it!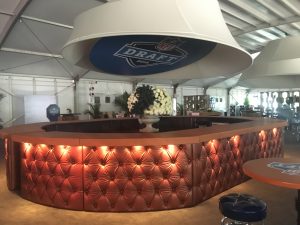 Here's a look at the event and the delicious treats we made for attendees.