Guests have a few basic expectations when attending a wedding. They expect a nice meal, a little booze, and dancing late into the night. What they probably don't expect? Interactive stations where guests can see our chefs in action!
We recently sat down with Stacey Combrzynski, an Event Coordinator on our team, to discuss how action stations can captivate guests at a wedding (or any event!)
Why Would Someone Want to Use a Food Station at Their Wedding?
Food stations offer an element of interactivity that's missing from many weddings. Normally at a wedding, you come in, sit down, and talk to the people at your table. We love action stations because they get people up and moving, adding a fun and social element to the experience. 
How are Catering by Michaels' Action Stations Different Than A buffet?
The main difference is that we push the envelope when it comes to interactive stations and are willing to try new things that will be exciting for guests. A recent example is when we used tea siphons as a way to infuse wild mushrooms into broth at a ramen action station.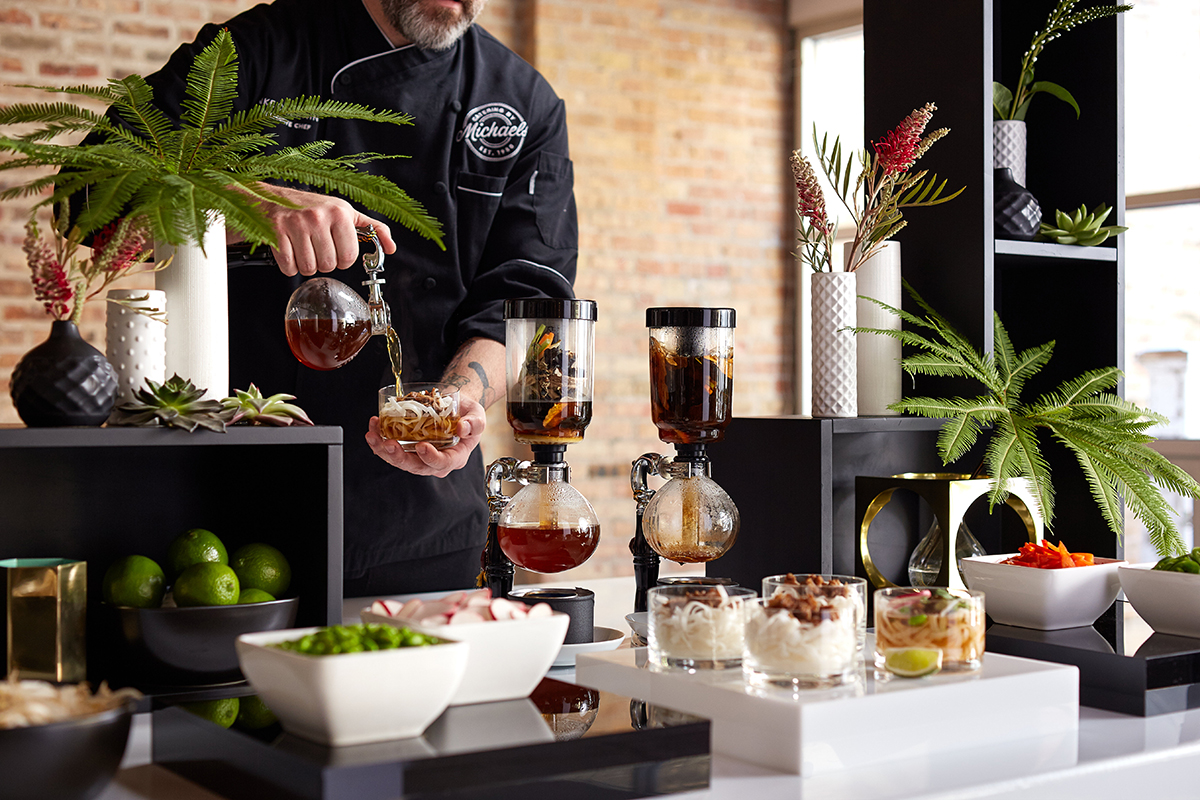 Because of their dynamic nature, action stations can cater to the couple's personalities more. We can also be more creative with action stations, so it really takes the guest experience to the next level.
What are Some of the Most Popular Action Stations Guests Request?
In the last year or so, I've seen people swing more towards cultural food stations (or a mish-mosh of different styles and cultures melded together). One of my favorite applications of our action stations was "Tapas on the Tens", where we introduced new tapas offerings every 10 minutes for guests to sample. Depending on the bride and groom's backgrounds and upbringing, we tend to get a lot of regional requests (like southern comfort food: shrimp and grits, macaroni, chicken and waffles, etc.).
The key to making a lasting impression is the proper integration of the taste and personalities of the couple.
What are Some of the Most Unique Action Stations you've Ever Seen?
We recently put together a duck fat fried chicken station that packed a huge "wow". The base was cheddar bacon popcorn, we fry the chicken in duck fat in front of guests, and use smoking domes to infuse hickory smoke into the dish.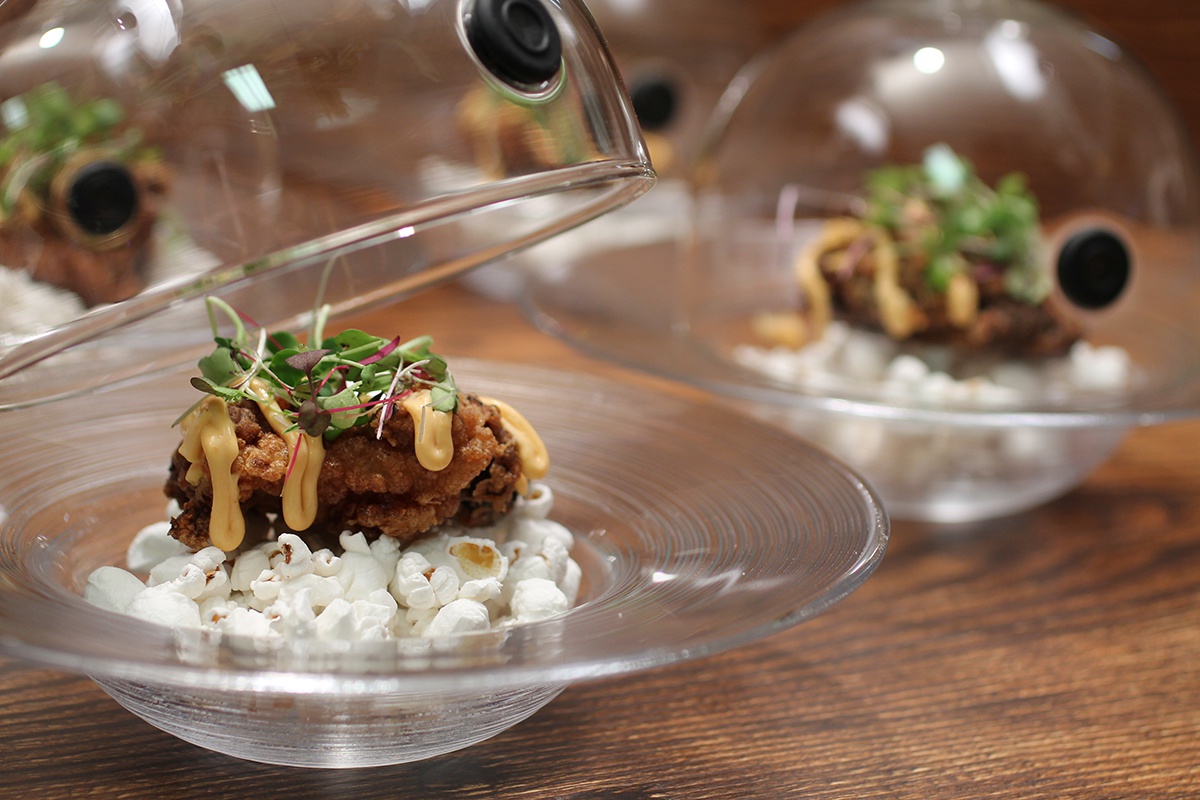 We also recently created a seafood boil as an action station with shrimp, sausage, and chicken.
Finally, we recently launched a robata grill action station for a gala at the Museum of Science and Industry. Guests could choose between a variety of meat skewers, which were then packaged with soba noodles and bao buns in a takeout container.
Where do Actions Stations Fit in When Planning a Complete Event?
First, ask yourself, "How much of a "wow" factor do I want at my wedding?". If you decide to offer action stations at your wedding, it's important to really commit to the concept.
If you decide to do an action station, it's best to offer multiple options. You won't be able to get all your guests through in a timely manner so we recommend multiple stations with different offerings to help keep guests entertained while they move through the line.
From a budgeting standpoint, you'll need to account for extra rentals, staff, and food when using action stations. Note that guests will likely want to try each action station—not just one of them.
If you don't think your budget can accommodate multiple action stations, consider adapting the action station concept to your dessert display. Cutting the cake has recently become more of a symbolic gesture: not everyone actually passes it out to guests! We've seen a lot of people use action stations to display desserts, showcasing nostalgic favorites—like Choco Tacos.
We've also seen people use action stations to showcase late night snacks. The key is to make sure you're catering to the couple's personalities. Ask yourself: "What is something that we don't want to offer as a main dish (french fries aren't great for an entree) but that would hit the spot after a few hours of dancing?". We get a lot of late night requests for regional favorites like Garrett's Popcorn and mini hot dogs!
Final Thoughts: Wedding Food Stations to Wow Your Guests
Whether you have a great idea or need help developing it, we're here to bring your perfect wedding menu together—action stations included! Get in touch to start the planning process.