Congratulations to the graduating class of 2016, whether you're just finishing middle school, transitioning from high school to college, or at the end of your educational career. We're inspired by the young minds that will be shaping the future. And we also are excited to play a part in many local graduates' party plans and helping them celebrate their achievements!
Catering by Michaels has two delivery menus that perfectly suit graduation parties set in the summer.
We have a Summer Menu, featuring fresh ingredients and bright colors. Entrees focus on handhelds, and desserts allow for a little bit of indulgence.
Then, there's the Tailgating Menu that's reminiscent of barbecue favorites and is sure to please even the pickiest eater at the party.
Let's take a look at some of our customer's favorites from each graduation party catering menu that may double as inspiration for your graduation party catering menu.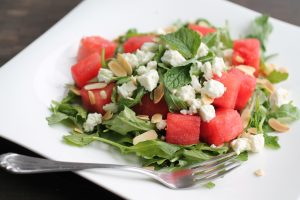 Start things out on a refreshingly healthy note with our watermelon and feta salad. This unexpected flavor pairing is just what a summer graduation party needs.