If you are like everyone else in the world — you love pizza. There is just something about the way this gooey, cheesy delight satisfies the mind, soul, and body.
It's this universal love for pizza that has restaurants all over vying for the title of best pizza pie.
With so many different opinions, it would be impossible to claim which pizza eatery has the best pie out there. But there is one thing for sure — Chicago Pizza Oven & Grinder has mastered the pizza pot pie and made it on our list of Chicago restaurants we love!
Setting The Scene: An Authentic & Cozy Pizza Haven
This cash-only eatery sits inside a historic Chicago brownstone and is best known for its famous pizza pot pies.
Just as you would expect, the setting is intimate, cozy, and overwhelmed by the aroma of fresh pizzas.
There is limited seating inside so the wait for a table can be upwards of two hours — even if you go early! The hosts are old school and only take down names, remembering faces when tables are ready. Though this means no fancy pagers or text messages alerting you that a table is ready, it's an intriguing experience to watch the host keep things going without a hitch.
By the time you sit down the urge to eat everything in sight is so strong that we recommend feeding your inner hunger monster with some of their fresh Mediterranean flatbread. The pizza pot pies take awhile to bake but the flatbread comes out quickly to satiate your hunger while you wait. It's made from thin pita bread and topped with flaky cheese and fresh herbs.
Chicago Pizza Oven & Grinder Menu: Sticking To The Basics
The menu is short and sweet, offering the following:
Salads

Mediterranean flatbread

Grinders (subs)

Pizza-pot-pies

Tortoni (Italian ice cream)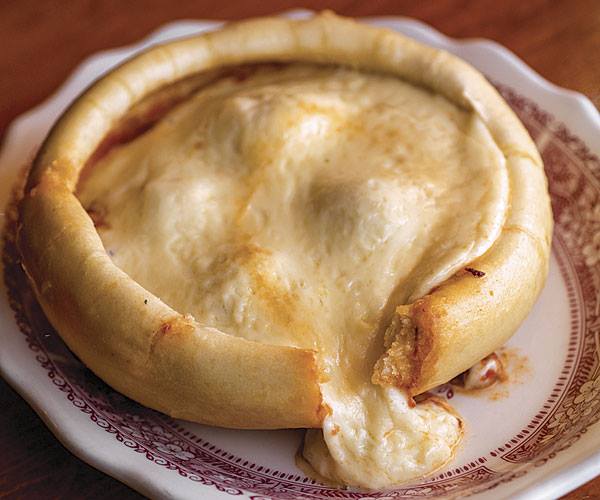 (Photo credit: Chicago Pizza Oven & Grinder's Facebook page)