Welcome summer by enjoying a fun-filled day at Independence Grove, a 1,100-acre nature preserve and recreation area located in Lake County. The pristine and secluded forest preserve is situated on a 115-acre lake and features hiking trails, an outdoor amphitheater, a sand beach, marina, and cafe.
The Cafe at Independence Grove
The Cafe at Independence Grove reopens this Friday, May 26th, and is a delicious attraction that you may not have known about. The cafe is run by Catering by Michaels, so the menu is all freshly prepared, made-to-order food. It's unlike what most people would expect at a park or forest preserve.
Menu items include thin crust pizzas, gourmet salads, and classic Chicago Style Hot Dogs and Italian Beef Sandwiches. Snack on Asian Sesame Chicken Wings or Spicy Onion Straws, topped with parmesan-garlic buffalo sauce. Cool down with an afternoon sweet treat of soft serve ice cream or relax with a glass of wine.
A special 'Kids Corner' menu includes a Turkey "Korn-Dog" and PB&J "Uncrustables." The cafe is open 7 days a week to the public: Mon-Thurs 10:30am to 4pm, Fri-Sun10:30am to 6pm, and until 9pm on concert evenings. 
Free Summer Concerts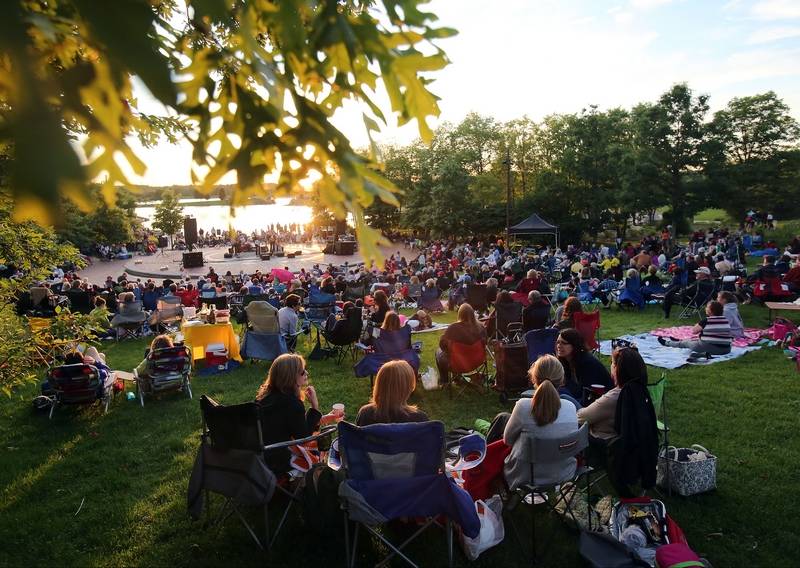 The lake and cafe alone makes your trip worthwhile, but you might as well stay for the whole day. The summer concert series is a guest favorite and begins on June 13th with a live performance by the New Invaders (60's Rock & Roll). Concerts take place in the preserves outdoor amphitheater, Millenia Plaza, and continue through August 8th. See the full concert schedule.